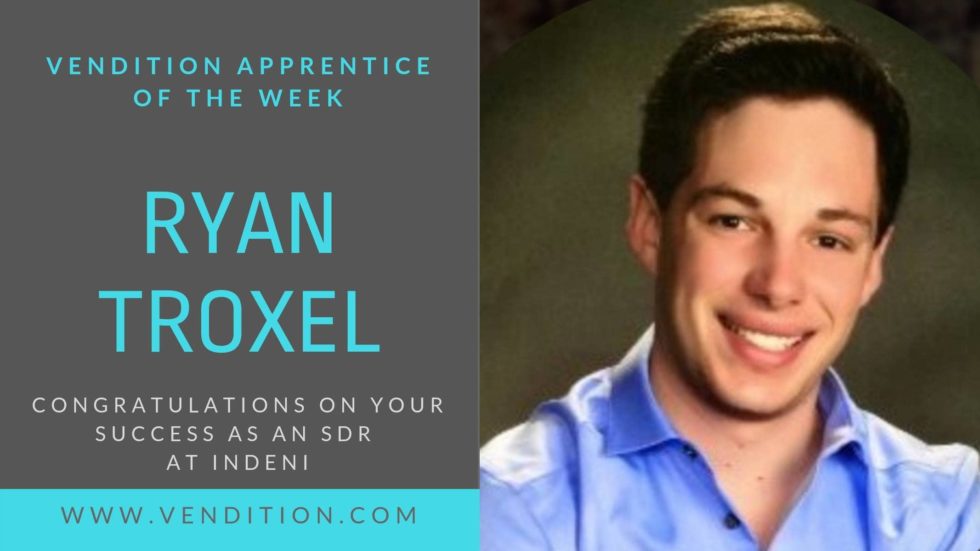 This week, we're highlighting Ryan Troxel at Indeni as Vendition's Apprentice of the Week.
We first came in contact with Ryan back in 2017 when he was looking to make a switch from recruiting into tech sales.  For the last year and a half, Ryan's been blazing his own trail in Enterprise Sales Development at Indeni.
Read the rest to learn Ryan's Vendition story:
"Prior to working in tech sales, I was a recruiter for an agency.  After one and a half years there I realized that recruiting wasn't something that I wanted to do long term.  I enjoyed the competitive nature that tech sales brought with it."
Starting in an apprenticeship was an experience that opened Ryan's eyes fully to tech sales.  "When I started with the Vendition team, they introduced me to a few companies. I fell in love with [the opportunities sales could provide], so I kept pursuing it."
Ryan shares that with Indeni it was a mutual fit for many reasons. "From a culture standpoint, the work environment and the people were part of why I connected right away. Everyone [at Indeni] is open and very hardworking and the team mentality really stood out to me as a good fit.  In addition to culture, the company size and being a part of a startup before rapid growth was ideal. It's great to come into your office and see the fruits of your labor, and that was really refreshing for me. I think what Indeni liked about me was my willingness to go the extra mile, with attention to detail and that pioneer mentality of blazing your own trail."
Ryan recognizes that being at a great company with great people helped him in his personal development in the role. "When I first started out, day one I was very unfamiliar to the sales cycle and sales funnel.  Prospecting, reaching out to the right individuals and then objection handling, were all new for me. Looking back on that now, I can see the maturation process–it's a night and day difference. What I've seen and encountered, any hurdles, I think I've been able to more than overcome them."
Ryan shares that a major component of his [Vendition] coaching was in the basics: prospecting. "Identifying the ideal customer profile was key to being able to hone in.  [I learned how to] navigate through different personas to get to the same end goal."
Ryan has one tip for SDRs just starting out: stay level headed. "It's going take some work and effort initially as you transition from one job to another, but the work you put in you'll be able to see grow exponentially as you grow through your career.  Stay level headed, don't ride the highs too high and the lows too low, and good things will come if you're patient."
"Having my eyes open to all the great companies that are in the San Francisco Bay Area–having that exposure–led me to the company I'm at today. I feel that being at a medium sized company gives you good perspective, which has been a growing experience for me and helped shape where I'm at and who I am today.
"I appreciate what Nick and the Vendition team has done for me, and I don't take this experience for granted."
Keep taking advantage of the opportunities ahead of you, Ryan!  We're so happy to have been a part of your experience starting out, and we look forward to seeing what more is to come for you at Indeni.