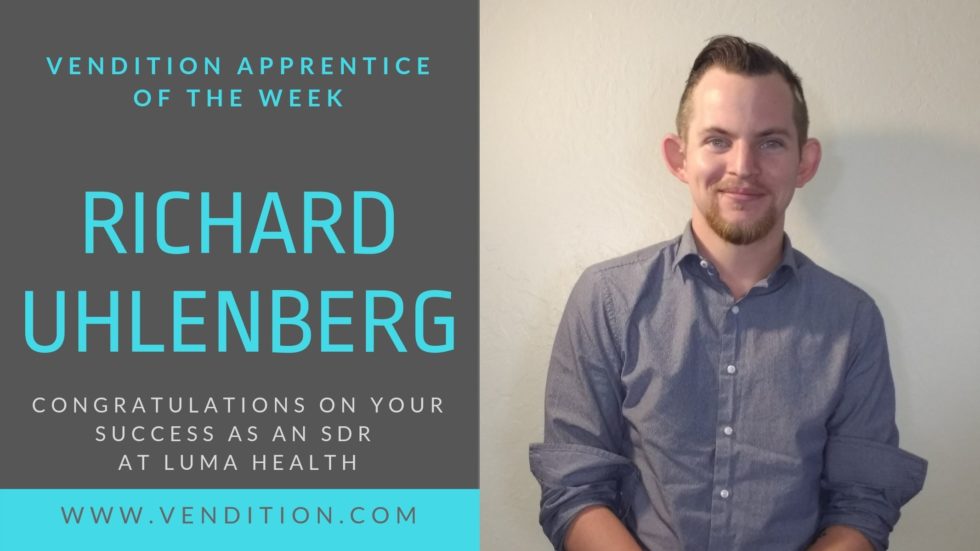 This week, we recognize Richard Uhlenberg at Luma Health as Vendition's Apprentice of the Week.  Richard started working with the Vendition team in early 2018, where he felt he came into tech sales with a fair amount of familiarity with sales in general. Richard had been in sales in some capacity since he was 15 years old–whether that was selling Cutco or home security.  When he was 19, he left to be in the military and came back home not knowing what he wanted to do with his life. Since starting at Luma in February of 2018, he's been promoted three times and has taken on new responsibilities that he's loving.
Read the rest to learn Richard's Vendition story:
"I bounced from sales job to sales job–every one of them was great, but I wasn't feeling satisfied. I worked at Fry's for a year, and I found that I was really good at talking about things I cared about.  I did car sales for a year and a half and again, I was really good at that because I liked cars.
Richard expressed that it was being thrown into a difficult job situation that helped him start to move in the tech sales direction. "I moved to a rural part of California at the same time that my dealership went through a restructuring. I was feeling incredibly lost, it wasn't great having 10 years of experience with no direction to go. I had friends from Fry's who had been hired out, and I knew that I wanted to follow them: I wanted to work in tech, and I wanted to work in San Francisco."
Richard shares that the apprenticeship model with Vendition opened up opportunities for him. "I knew I wanted to be in San Francisco [so when I was looking for jobs there] I came across a job posting for Sales Bootcamp. The training was incredibly useful. I was able to go into interviews knowing how to use Salesforce and what a day-to-day structure should look like."
The product, the space, and the people all came together for Richard when it came time to interview with the Luma Health team: "I interviewed at Luma and everything clicked. I've been in the healthcare system my whole life–everything that the managers here were saying were things I agreed with. I want people to have easy access to care. All the right things were said in the interview–and I thought to myself, 'Oh, this is a company that I want to work for.' I spoke with the CEO, CTO, and VP of Sales for the second round interview.  We all bonded–I was able to talk about going through Sales Bootcamp, and I was able to talk intelligently about what was required of an SDR. I felt that I was able to come into the company easily moldable."
In regards to his coaching sessions with Ashleigh, Richard says that Ashleigh helped him to reflect on his own process. "It was great, a lot of the suggestions I received were worthwhile–and now I'm helping SDRs ramp. Some strategies didn't work for me, but that was okay–it was worthwhile to think about my process logically.  As the apprenticeship progressed and I started to feel more established, a lot of the suggestions that Ashleigh gave me changed from 'how do I do XYZ' to more 'what should I be looking for in my next step of this career?' Ashleigh was really able to talk me through everything, and she made me feel so much better about where I was at."
Richard has two pieces of advice for any SDRs starting out in their career:
"After one to two weeks in starting, now you know what you're talking about, so go be relentless.  Don't let the fact that there's a 90% fail rate in cold calling take away from a 10% success rate. Just be incredibly relentless, be ruthless."
"Don't let one person's bad attitude ruin the rest of your day –don't feed off the energy, make your own.
As far as what's changed from starting out to now, Richard's feels his biggest achievement has been his promotion path. "Number one, I've been promoted three times since I started here. While I'm still an SDR–I'm a senior team member now–my role and responsibilities have shifted dramatically from 'here's 25 accounts, go call them' to account based marketing in a very specific territory.  On top of that, I've learned so much in the last year that it's hard to quantify everything that's changed. The main thing that's changed is my mindset. When I came into SDR work, I was kind of cocky, thinking 'Oh I'm pretty smart, I can figure out most of this stuff on my own,' and now, I tell myself, 'Don't be afraid to be the dumbest person in the room,' because that's when you're going to grow the most."
Keep up that always-learning mentality, and you'll continue to grow at Luma Health, Richard!  We're so glad to have connected with you when you were looking to make this shift, and we can't wait to see what else is in store for you.