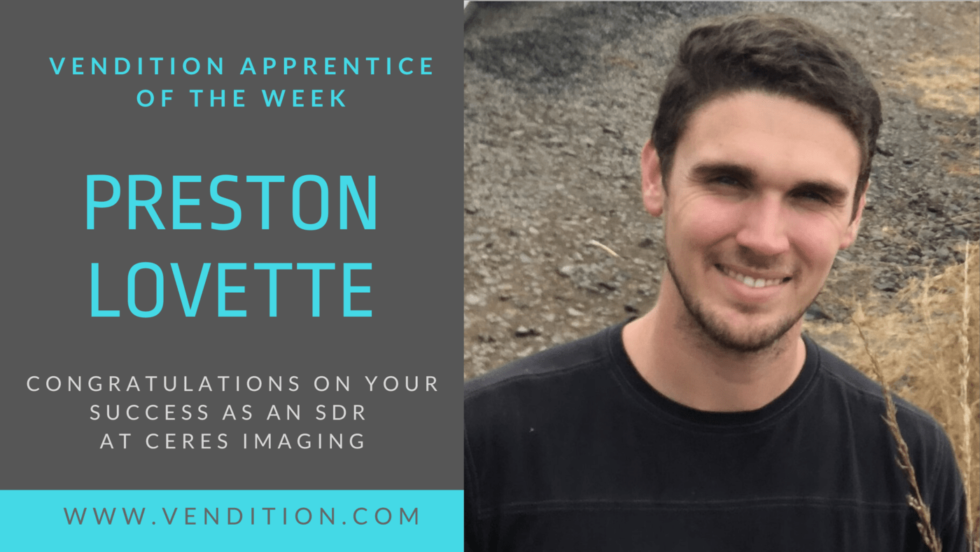 This week we recognize Preston Lovette at Ceres Imaging as Vendition Apprentice of the Week!  Preston first realized he wanted to go into sales while farming in Oregon, as he recognized that sales could provide him the income he was looking for with his long term goals in mind.  He started out in solar sales and got in touch with the Vendition team when he wanted a change, and at the perfect time. 
Since starting at Ceres in May of last year, Preston has moved from SDR where he hit target every month for six months straight to customer success manager to now account manager… ALL in his first year!  
Read the rest of his story to learn about Preston's journey:
A big piece of what Preston cared about was something that gave him the ability to align his interests while promoting a cause that creates a better environment. "I went into sales and started doing solar sales, door-to-door, and I was just getting a little tired from that. And then I found out about [Vendition and Ceres], which seemed like another great opportunity to connect my passions for environmental work and sales." 
Vendition moved quickly with Preston. "It's crazy. I opened my LinkedIn to open to talk about other opportunities. And then within three days, someone from Vendition reached out and we had a great conversation. It was literally within a week that I got placed at a company and a job that really resonated with me."  
Initially Vendition told him having solar sales experience would help him do well in SaaS given his technical sales experience and door-to-door training.  We talk about a perfect fit a lot, but truly, Preston couldn't have been a more perfect fit for the Ceres Imaging team!  "And I was like, okay, you know, maybe I'm interested in that. But then when I talked to Hailey, she said, 'I think we have the perfect fit for you.  Ceres Imaging connects sales, the environment, farming, all these things that you're interested in…' And yeah, I mean, after my interviews, I told Hailey that I want to work for that company.  It seemed like a good fit literally from the first time Hailey told me about it."
Given Preston and the rest of the Apprentice class he started with didn't have an SDR manager when they first started out, Preston says that working with his Vendition coach, Sam, was helpful in making sure they onboarded successfully and became familiar with their tech stack. "Sam would come in on a weekly basis for the first six weeks, and he would spend time with us to make sure we're familiar with the tech stack, how to take advantage of it, different tips and tricks we could use on the phone through the tech stack. So… yeah, Sam was really helpful in getting a lot of the basics down."  Additionally, Preston says key tips in his coaching sessions with Sam were related to calling strategy and how to leave voicemails that will get more responses. 
"I would say for the first one or two months I was really trying to familiarize myself with being an SDR–I've done door-to-door before but being an SDR is a different thing entirely. By the last month, we didn't really feel like we needed as much guidance or support but prior to that I felt like there was a tremendous amount of support from Sam. We could call him whenever we needed him or, you know, shoot him a message when we needed some support." Vendition's coaching and mentorship really helped his class get off the ground when there was no SDR manager available. 
Preston's manager at Ceres, Julie Hazzard, says his hard work paid off, "Since day one, Preston has been an absolute asset to the team. Starting with us as an SDR, his high performance saw him progress quickly into an account manager role. Since then, as our first one-to-many account manager, he has applied good judgement, hard work and general business smarts to build a whole new role and set of capabilities in the sales team."
Preston says that he feels he truly has impact in his role at Ceres. "I have really enjoyed my time at Ceres–we do aerial imagery for farmers.  So by helping them be more efficient with water and fertilizers, we can make a little bit of an impact. In a very large agricultural system, I am totally happy where I'm at."
Preston's tips for SDRs just starting out:
Research.

  Preston says to do as much research as you can on your prospects–it will make a difference. 

Don't take 'no' too critically.

"Be able to refresh and keep a level head throughout the process.  Sometimes if you're hearing no after no, and you're looking for just one yes in a day, you can feel overwhelmed. The next call could be a yes, so just keep at it."

Utilize your resources and don't be afraid to ask questions.

Preston leveraged having Sam in his back pocket, even after he ramped up during his first two months.