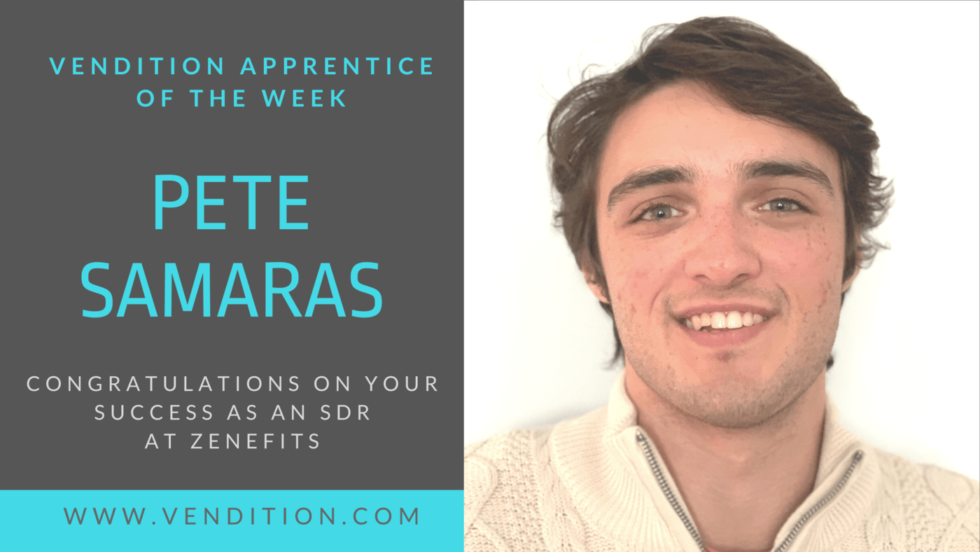 When we asked Pete what contributed most to his success at Zenefits, we got a few answers. For one, sales was always on his mind, as he was going through school and figuring out his next steps… It was only a matter of where he pursued sales. He also mentioned good sales karma–an ability to keep his head down and work even when the results didn't come in immediately, because the results do come in eventually when you work hard.
But ultimately he attributes his success to having the right mindset. Finishing out February, he hit 119% of his ramping quota and saw one of his opportunities close win from start to finish! 
Having studied Business Administration and focusing on marketing, Pete shares that he always had sales in mind, but initially he was leaning towards the marketing and advertising space to pursue it. Tech sales was something he heard about from his peers and mentors, but he just didn't know how to get started. "After watching my dad sell my whole life, knowing we were very similar with our talkative, bigger personalities, I knew I wanted to pursue sales and if it could be tech, that would be great. So when the opportunity with Vendition to go into Tech Sales came on my radar, I jumped at it."  Reflecting on a combination of his own skillset and personality as well as the timing of the opportunity presenting itself, it felt right to make the leap and go for it. 
Pete joked he knew Zenefits was great because despite stumbling, they still gave him a shot! "Of all the interviews I've had in life, I've never felt that amount of immediate warmth going through a process. I could tell it was going to be supportive, that they wanted to see me succeed. It was a no brainer accepting." 
Going through Vendition's process and getting started at Zenefits, what he's seen evolve most over time is his communication style. "If you want to be a salesperson, you need to be able to convey why you can do the job in the interview, which then translates into the role. I've seen myself slowly but surely develop into my own style, not only as a sales rep but also as a co-worker. I'm able to be true to myself and my personality, but also develop that directness and what I'd like to think of as an economy of communication."  
Pete says he uses the same directness in his communications with his own friends.  "I was telling my boss in our 1:1 the other day I'll even start the call with  my friends with 'the reason I'm calling is…' even if there's no reason! It's funny, and it's such a positive shift, being more direct.  I think there is a level of self actualization to it, where you're just going to be more sure about what you want and why you're asking."
Pete says working with his Vendition coach was most helpful with sharpening a more consistent, positive mindset.  The coach is there to help Apprentices stay the course, form good habits, and have the right mindset. "We talked a lot about sales karma which I've really been able to internalize. If I work hard now, it might not pay off until later, but it eventually will.  My coach really hit that home for me." 
Pete's Advice to SDRs starting out:
Keep your mindset consistent and believe in yourself. "This wasn't something I was good at naturally, but it's something I've worked on and it's helped. Remind yourself that you've built up so much resilience and you can roll with the punches."
Take any help you can get. "Whether that's with Vendition or with others on your team, I have received a lot of help from places I wouldn't have expected, and I believe firmly it contributed to a lot of my own growth."
Be persistent. "You're only going to annoy the people who probably aren't a good fit. The ones who are right for your process will appreciate your nudges."
Focus on what you can control. "And go nuts with it."