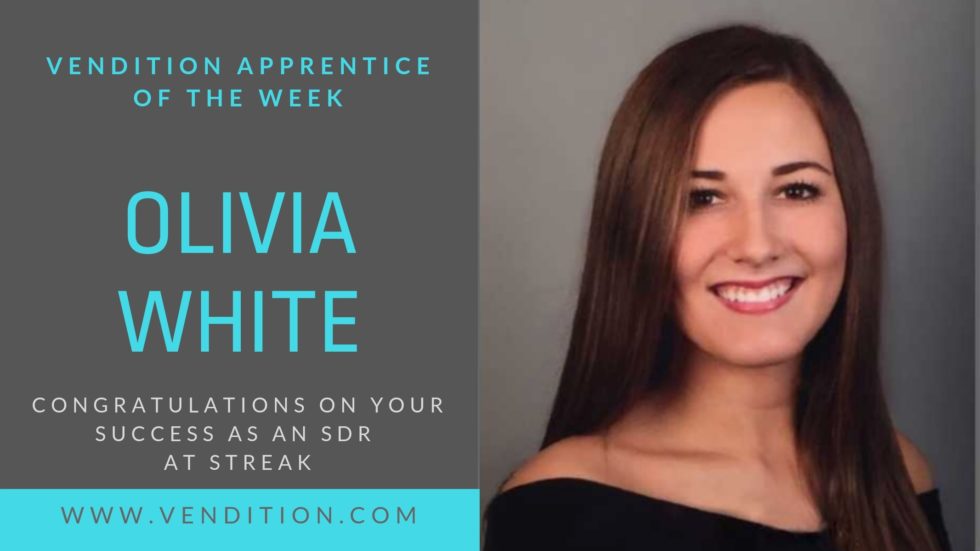 This week, we recognize Olivia White at Streak as Vendition's Apprentice of the Week.  As a recent grad from the University of Oregon who took some time to travel before hitting the full time job search, Olivia started in her role at Streak in January of this year and has been on a meteoric ride since transitioning to an AE role in May. 
Read the rest to learn Olivia's Vendition story:
"My mom has been in commercial real estate my entire life, and my dad did it for a while as well.  I always saw them selling, and I knew that my personality lined up well with what they did, I felt I had a competitive edge. I liked the idea of having a job where if you work really hard, you get to reap the benefits. To that effect, I always knew that I wanted to go into sales in some way or another.  I had done a few internships in commercial real estate and although it was interesting to me, I knew that I wanted to do something just for me."
Outside of knowing that sales would be a good fit for her personal traits, Olivia shares that she knew she wanted to pursue tech after gaining a bit more experience through school. "Growing up around tech, that definitely appealed to me going through college, but it wasn't until my senior year that I was pretty sure I wanted to pursue tech sales. I had talked to my relationship manager before I graduated, but then I worked a little, interned, traveled, then I really jumped into the job hunt.  At that point I went into it knowing that I wanted to be in software sales. I didn't know what I wanted it to be exactly, I didn't know what culture I wanted. A lot of my peers were in software sales, and they were in all different types of companies and roles. My relationship manager did a good job of matching me with different kind of companies."
As for why she connected so well with Streak, first and foremost she recognized it was a software she could believe in. "On the technology side alone, there were a lot of companies that I was talking to that their product didn't feel tangible. It didn't feel relatable to me. I've been using Gmail for years, so I understood immediately how Streak worked. There are a lot of software companies where you're doing thirty minutes to an hour of research on their product and then you still don't know what's going on.  Not only did it feel relatable and tangible to me, I loved that when I was interviewing at Streak, the team said that they were using it themselves every day."
"Then I felt like the interview process went really well, as far as who I met and how the conversations went. I knew I liked Streak off the bat, but I wanted to make sure it was the right fit. They ended up taking me to dinner so that I could meet more people, and it felt like such a culture click. I didn't want to work with people who were too similar to me but more so people who I could click with. I think it's really important that you like your coworkers. I felt this right off the bat, but definitely since being here, I feel it's a culture where obviously we're competitive, but we also want each other to do well and we want the company to do well. If one of us comes up with sales strategy, we're sharing it with the rest."
When asked about how her experience has been starting out, Olivia credits a healthy pressure and excellent management. "It's been a whirlwind, but in a great way. I work well in a fast-paced environment with healthy pressure. My role has changed really quickly, there's been a lot that's changed just in the months I've been here.  Starting day one, Peter has been such a great mentor, I really feel like I've lucked out with my manager.  He's really good at being available to answer your questions at the beginning, and then he's good at taking a step back when you are a bit more comfortable.  There's room for creativity, and he encourages you to think outside the box. You do have all this independence at work, so if working a certain way works for you, he's not forcing anyone to conform to a certain style. I have peers who answered questions and provided guidance starting out, and I'm super excited about [the promotion].  It means a lot to me to know that my boss sees something in me."
Olivia's manager, Peter, says, "Olivia's work ethic is second to none and her organizational skills are out of this world.  I'm confident that she'll be able to take what she learned as an SDR and translate it into being an effective AE. I am super proud of her!"
In regards to her coaching sessions with Ashleigh, Olivia shares that initially struggled with figuring out her own process and Ashleigh helped her figure one out. "Ashleigh asked questions and figured out where I was in my journey. I remember we had one session where I was saying, 'I feel like I'm juggling a lot and figuring out when to do things and how to prioritize', so Ashleigh helped with organizing my calendar and retroactively putting how much time I spent doing these specific tasks. I felt like we all put times on our calendars and get distracted, so she told me to go back and fill out what I did do during this time so that I could see how much time I thought I spent on this, and this is how much time I actually spent on it. Now I have a gauge for how much time I need on things. If you look at my calendar now, almost all of my day is scheduled."
Olivia's advice for SDRs just starting out in the role:
"Expect the unexpected. Be cool with change—having that open mind and willingness to put in hard work but also the willingness to try something new will help you see what works best for you."
"Figure out what your timing looks like—how much time you're spending on these tasks because you only have so much time in the day."
"This is advice I got so much: you need to have a tough shell and understand that if someone is super rude to you over the phone or email—it's not personal. That's just part of the job."
When we asked Olivia about her opportunity to move into an AE role so quickly, she credits personalization as a key factor to seeing success so rapidly as an SDR. "Towards the end of my SDR responsibilities finishing out, I was pretty consistent, and I was doing a pretty good job of having meetings set.   A lot of that had to do with the fact that I got my process down and wasn't wasting my time. I felt that something that's unique to me was that I focused on personalized emails, because that's something I really enjoyed doing.  I think that's part of what made me successful, in figuring that out early on I've been spending more time researching people on LinkedIn which led to some really big weeks."
We are so proud of you for the hard work you've put in as an SDR at Streak, and we can't wait to see what's in store for you in this new role.  Congrats on your success and there's no doubt you'll see even more as an AE!