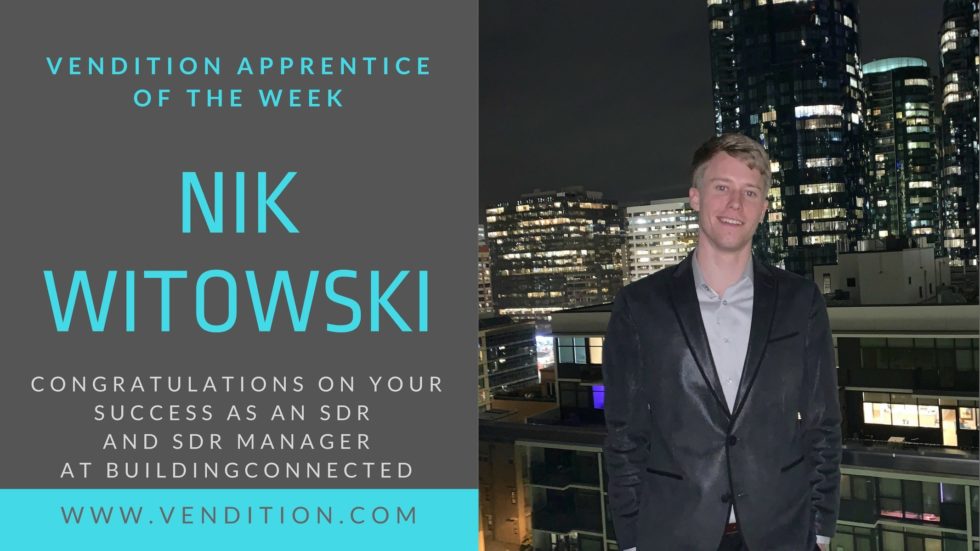 This week, Nik Witowski at BuildingConnected has been nominated as Vendition's Apprentice of the Week.  Since August 2017, Nik has been working hard at BuildingConnected and since January of this year, he's taken on managing their SDR team.  
Read the rest to learn Nik's Vendition story:
Nik shares that due to his involvement with various student organizations at UCSB, he knew that starting out in sales at a start up would be a good place to begin his career. "I started with [Vendition] in 2017.  I was referred into [Vendition] by a colleague of mine, Gabe, from UCSB. I was heavily involved in entrepreneur associations and Startup Weekend on campus. I knew that I wanted to be at a startup for sure. I chose sales because it was the one thing I feared and something I knew I wanted to improve on.  I figured I could try sales for three months through [Vendition]."
Nik grew into the role in a way that exceeded his expectations, "It became more than sales to me, it became something that I enjoy, and something I've really come to love.  Doing something that I'm not good at and then to try and almost master, my competitive nature came in hand. [The idea that] the harder you work the more you get paid really has that entrepreneurial mentality I like. I know now that I want to do [sales] because I want to improve on myself, and anywhere I go from here, I'm going to need it."
In regards to why he connected so well with BuildingConnected, Nik shares that the culture was the number one selling point for him.  "BuildingConnected at the time was about 50 people, and from my understanding BuildingConnected wouldn't have hired me straight out of college. The culture was a huge thing for me. During the interview I was in the same room as the SDRs already working here at the time.  I was sitting in one of the desks that would've likely been mine. It was really cool because they were interviewing me as others were making calls right behind me. It felt like something that was very unique, very awesome, and exactly what I was looking for. I didn't want to go into a corporate, ten thousand person company, and that interview alone felt very in line with what I wanted."
When asked how he feels from day one on the job to now, Nik says that it's been a lot about personal growth more than anything else.  "When I first started, it was like 'this is your script, and this is what you're going to say.' Then I had my [Vendition] coach asking me, 'What worked well?' and he helped me more with mastering the sale itself.  Over time, it's gone from mastering the ability to sell to now helping others succeed in mastering it. It's cool because it's about how I can use those skills I've learned and reciprocate. Having that base, having that start of 'this is how it works, this is how you're mentored' has helped so much in my new role. I love chatting with people, especially SDRs, and making sure they're at their tip top shape.  If they're not, I'm asking 'What can we do to improve?' Cold calling is its own chess game, and making people succeed in it is its own game."
When it comes to tactics discussed in his coaching sessions, Nik shares that passion was a common underlying theme. "There are certain things that you can teach, but the most important is how you are able to take your passion and express that not only over the phones, but also in getting fired up about what you're achieving.  For me looking back now, when my coach gave me advice he was always really confident and passionate, saying 'you got this, you're gonna make this work' that created this passion within me. I feel like that's something that can't be taught, it's from within."
Nik's top tips for SDRs:
"Sales is an invaluable skill, so don't give up.  In the first month or two, every day I was saying to myself 'I can't do this, this is my last day,' but looking back I don't regret it at all.  Taking on this role helped me see and then reach what are my limits, and then it helped me push my limits to a new level."
"Have that light at the end of the tunnel, figure out what you want to do next.  Whether it's moving to an AE role or SDR manager, it'll help you succeed in this role."
Nik's tips are worth remembering.  Since January, he's moved into the SDR manager role for his team and continues to see success.  "Getting into work every day and seeing other people see success is truly rewarding. It's great to have a team culture in which someone else succeeds, and you're happy for them. The company growth I've seen since I've started and solving a problem that needs to be solved for our customers are both things that truly bring me joy."
We're so glad you found the right fit at BuildingConnected, Nik!  We wish you the best as you continue to grow your team and further into the SDR Manager role.