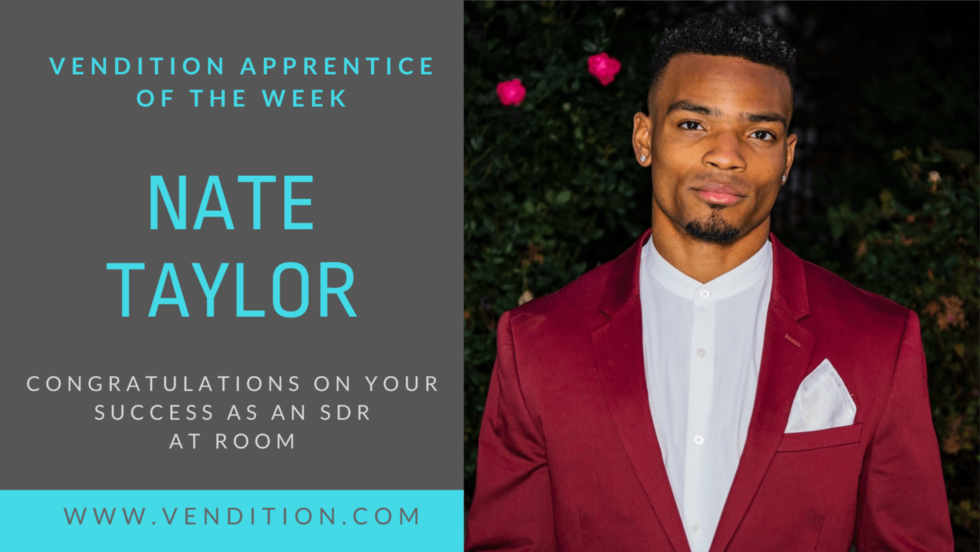 Some people stumble into sales, some people know they're made for it; for Nate, it was the latter. Out of college, he knew he wanted to be client facing. He had always received feedback that he would make a great sales professional because of the energy he brought and how it never felt like selling to him. And now, he has the validation…
In his second month, his manager created an incentive for anyone who set ten meetings that month. The first day of the SPIF, Nate booked four meetings and ended his month at fifteen. 
Someone said to Nate "Salespeople drive economies." This really resonated with Nate and he knew given COVID, now was a great opportunity to prove his worth as a sales professional. 
Nate was originally drawn to ROOM due to his manager's track record. "One of my criteria in the job search was finding an opportunity with someone who can challenge me and push me to grow. I feel that oftentimes because of how I present myself, I've had managers who don't necessarily provide regular feedback or push me because they think I feel confident and comfortable enough as is. I felt that Niels would be a great person to help me develop leadership skills and round out this foundational role in my career."  Additionally, Nate felt the product made a lot of sense. ROOM creates modular office spaces in a modern workplace designed with peace, quiet, and privacy in mind; it's bound to do well once people start itching to work from a place other than home.  
It wasn't all excitement, fun, and eagerness though. Nate acknowledges he was nervous when he first started as an Apprentice at ROOM, but now he understands the daily challenges are normal and he can enjoy the process while facing these challenges with confidence and acceptance. "I'm in love with building the actual skill set… setup, not selling necessarily but influencing a person, building trust and credibility, and hopping on sounding less robotic and scripted. I'm having more conversations, and now it's a lot more fun. The conversations have slowed down, and I've seen so much personal growth."
Sales Development Pro-tips from Nate:
(In the voice of my Vendition coach) If you don't know what to say after researching a prospect, just pick up the phone.

"There's no faster way to get in contact with someone than just giving them a call."

Drill and practice every day

.  "I'd even suggest doing this multiple times a day.  You'll never regret practicing more."

After the value prop, say 'just to be sure I'm not wasting your time,' then insert your qualifier.

"Before using that line, if I made ten calls, I was hung up on 3-4x. Since using this, I've been hung up on once in the past two weeks and I've made well over 300 calls. People are hanging up the phone on me less with this one adjustment."

Re-listen to all your calls.

 "Hearing a lot of my cringeworthy material and how willing people are to still talk to me, that's what helped me start slowing down with my conversations."