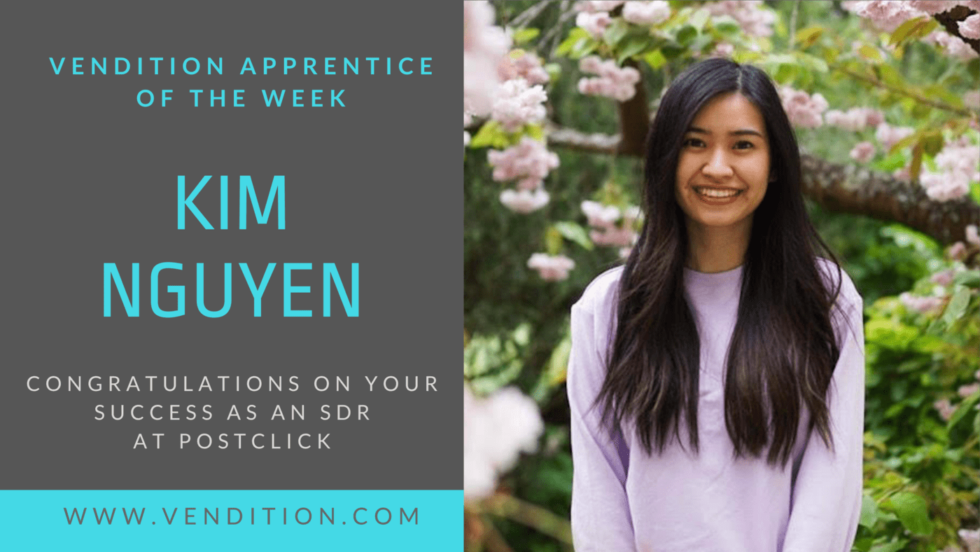 Congratulations to this week's Apprentice of the Week, Kim Nguyen, at Postclick! Kim's passion for sales grew in college when she held a sales position for all four years of school and was able to pay off her tuition. Postclick peaked Kim's interest as she wanted to combine her experience with both product marketing and sales. Through her apprenticeship and time at Postclick, her perspective on the sales role has evolved. 
Check out her interview and advice for future SDRs here: 
On choosing the right product: 
Kim had used Postclick's product in a previous internship which has helped her tremendously as an SDR. "I realize now, being in a more official sales role (as opposed to in college), that having a really good product is super helpful when it comes to reaching out. I love Postclick and anything related to the product. I think that's why it's easier for me to be a salesperson at this company specifically." 
On a supportive team: 
An encouraging and supportive team was essential for her to face challenges, such as rejection."My coworkers are the best thing.  My coworkers and I have a call every single day where we'd go on for an hour and do tasks together and just talk. I think that really got me through sales. I have plans on becoming an AE hopefully and so far it's been great. I hope we continue doing that. We have a good support system here."
On expectations: 
During her first few months of the SDR role, her idea of what makes a good salesperson changed. "Before sales, I struggled a lot with confidence and my image. I believed that to be a good SDR, you need to be someone who's very confident, who's very easy going and likes to talk to people. I also thought that you had to know everything about your product and be super professional on the phone. But when I became a salesperson, I started to realize that even if you're not confident, as long as you're able to talk to people and keep a conversation going you will be just fine. People really appreciate honesty and feeling like they are talking to a real person over the phone."
On Vendition: 
Vendition's Coach, Eddie, provided an additional mental support system for Kim. "Having him there was really nice. When I was feeling confident, we would walk through the technical stuff and work through sales tactics. But he was also there when I was feeling like I wasn't good at my job to help me through it and make sure I was feeling supported. He was also there to joke around with and lighten the mood." 
We are so proud of all you've accomplished Kim and look forward to watching you grow in the future!