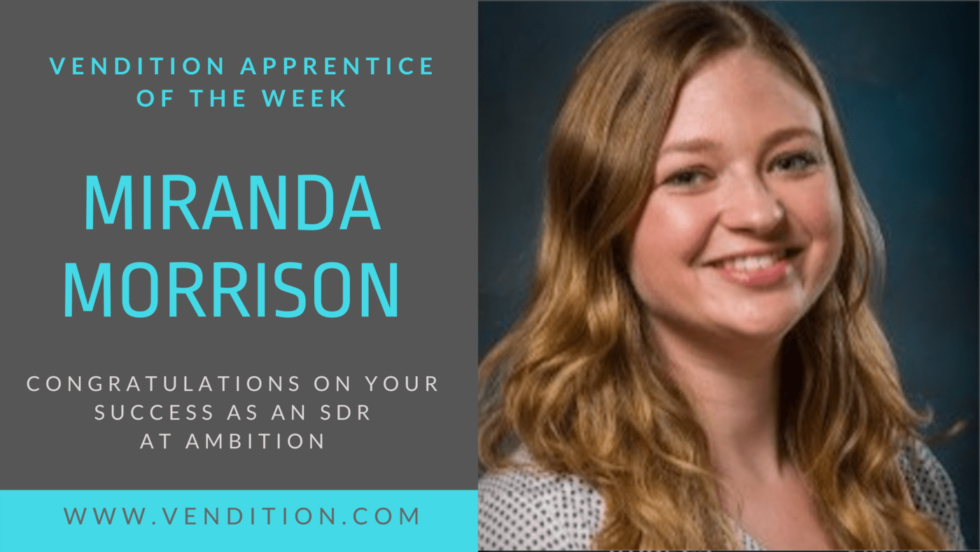 Ever since she was young, Miranda wanted to be in sales. Growing up in a family of sales people, she knew her warm personality and motivation to succeed would help her grow in her future sales career. Upon graduating college, she was introduced to the SDR role. Through Vendition, Miranda landed her first SDR role at Ambition.
Ambition stood out to Miranda because of its dynamic company culture. "Even in Ambition's remote work environment, with the employees spread out across the country, everyone is so supportive and engaged. I knew right away that it was my number one choice during my SDR role search." Speaking with the management team during her first interview solidified that Ambition is where Miranda was meant to be. "After speaking to Chris, Katie, and Mark, I saw that they were so clearly passionate about Ambition's product, cultivating this really amazing team dynamic and fostering a growth mindset. It is such an uplifting environment."
In the past 3 months, Miranda's confidence grew along with her passion for sales. Though Day 1 was intimidating and she didn't know anything about the job prior to Vendition's training, the training and time at Ambition made her so much more confident on the phone. Now she can truly enjoy reaching out to prospects! Miranda's attitude has helped her exceed expectations and keep motivated. She can relay how much she cares about the product without being nervous and uplift others to do the same. 
"You can't take things too personally or too seriously. You do the best you can, go in with a great attitude, and then it's all up to the person on the other end of the phone." 
Going into the Apprenticeship, Miranda had an idea of what to expect. She was prepared for running cold call scripts, email practice, and general job training, but was happily surprised to learn that Vendition's Apprenticeship is much more than that. 
"The first week I had with Tyler (Vendition Coach) and the rest of my onboarding cohort was amazing, I could not have anticipated the sense of community and support I felt. We have continued to check in with each other, celebrate our highs together and pick each other up at our lows. Tyler is such an incredible inspiration and is a personal sales hero of mine. He is a great person to work with."
Here are Miranda's top tips for aspiring/new SDRs:
Stay Organized:

"Prioritize your task list and stay on top of it. I keep everything color coded and have taken diligent notes during my Apprenticeship."
Be Comfortable: "

Being confident and comfortable is so much more important than being perfect. Be personable, empathetic, and mindful of the people you are speaking to. I believe that supersedes the content that you are sharing. How you say something is oftentimes more important than what you say."
Grit and Dedication:

"If you're committed to learning, you will constantly evolve in this role. Bad calls happen, we are all human and no one is expecting you to be perfect. I feel so lucky to get to talk to new people every day. We are all capable of more than we think we are."
Miranda also wanted to thank Leah Blanks, Vendition's Career Advisor Lead, for trusting and believing in her and helping her get land her Ambition role. We are so impressed with you, Miranda, your passion is infectious and we can't wait to see you grow at Ambition!