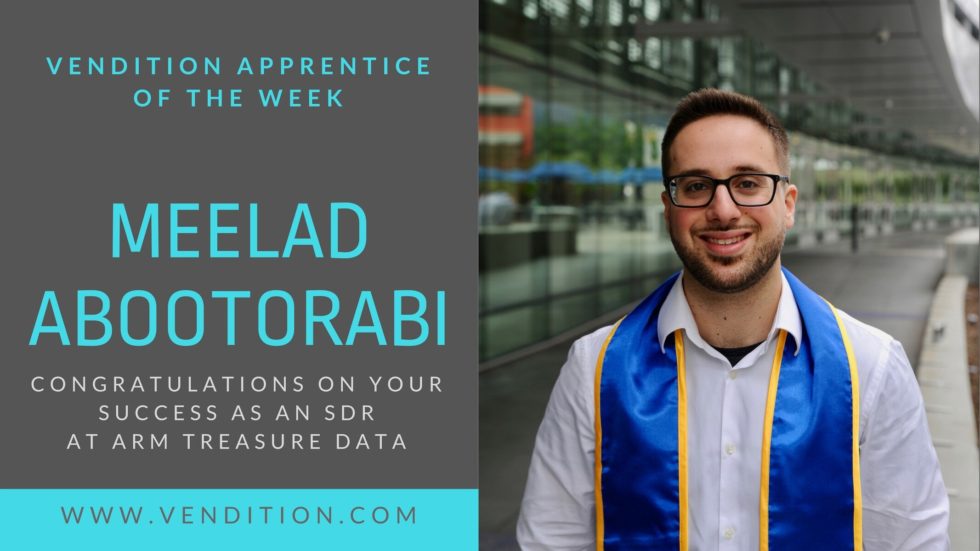 This week, we recognize Meelad Abootorabi at Arm Treasure Data as Vendition's Apprentice of the Week.  Meelad graduated from San Jose State University with a business degree in marketing in December and knew that he wanted to maneuver himself towards sales.  We first got in touch with Meelad as he was taking finals, and with a sure fit established right away in the interview process, he started working at Arm Treasure Data just after the New Year.
Read the rest to learn Meelad's Vendition story:
Meelad first shared that he knew he wanted to apply the sales skills he learned through banking while in school to his first role.  "I wanted to move into sales as soon as I could. I remember [back when I was starting to look for jobs] that I was talking to my sister.  My sister is at Salesforce, and she knows a lot about the tech space. She told me, 'You're an extroverted dude, why don't you take advantage of that? You're always racing against yourself, and I could honestly see this being the best fit for you.'  I felt that graduating with a degree in marketing, you really figure out how to be creative with your education, and I really wanted to give sales a good chance."
As soon as he got started at Arm Treasure Data, he was able to catch on.  "It took me a while to get meetings, but once I did it's progressed a lot.  It's cool too, because we just had a new person join the team, and I was able to help coach him.  It feels good to be the person for people to go to. I like communicating with others, it makes me happy to build that relationship.  I'm a few months in, and I'm still emailing some of the people I first got in touch with early February. I really couldn't see myself being anywhere else."
When asked about why he connected with Arm Treasure Data off-the-bat, Meelad credits the people and the space. "The culture here is awesome–it's the perfect definition of a fast-paced start up.  Everyone has been so kind and helpful, and I have so many resources. I love my coworkers, and I get to bond with them on my own. At the end of the day, I feel like being at a software company is the future, being able to work with such an interesting product is mind blowing — it's really cool what I'm selling.  I honestly can go on and on about how awesome it is but all I can say is I'm blessed to be able to work at a software company. Moving forward, I can always say that I've been there, I've done this. I'm no longer the newbie — I feel that it was a little scary at first but I passed the hardest obstacle."
Meelad shares that it wasn't easy starting out.  "Day one was scary, I was still pretty nervous to get started. Even though I'm extroverted, I was still scared about joining a whole new world and prospecting higher up people. It was really tough, and I was scared that I wasn't going to be a fit.  Over time, I learned to really use my resources. I asked my colleagues questions and took notes to get the ball rolling. I felt that being able to learn and apply their advice to myself, while continuing to watch other people also implement changes helped me progress pretty quickly.  Because of that, I've been open to learning even more. I really used a lot of my resources, and now I feel so confident in what I'm selling, and the fact that I really love the product is something people can hear in my voice."
Meelad credits his coaching sessions with Ashleigh as a catalyst for his accelerated learning.  "Especially working with Ashleigh, helping me out and giving me awesome tips, I feel that showed a big difference in my work. Now, coming into work I know exactly what I'm going to do–and I still refer back to the [Sales Bootcamp] training. I'm surprised I've learned this much so quickly and that I was able to prove to myself and to my boss that I'm capable of being successful here.
"When I used to call people, I would be leaving a lot of voicemails.  At the end of the day Ashleigh would say 'I just want to make sure you're using your time effectively.' Like 'you know what? Just lay back on your voicemail,' and then she helped me edit my email templates.  She'd say 'keep it short, say hey I just left you an email — all my information is on there,' and I've been getting a lot more responses. Ashleigh really helped me push myself–she'd know I just just got 10 meetings and tell me that she knows I can do these things, which would motivate me to go for more.  Ultimately, she made me feel more confident because she's a great motivator, I can tell you that."
Top Tips for future SDRs:
"Don't be scared.  I know cold calling and cold emailing can be scary because of fear of rejection, but I like to think of it that you won't meet them face to face, so there's no need to be scared."
"Practice, practice, practice – you won't be confident unless you do."
"Always use your resources – they can really help you down the line. Take advantage of your surroundings."
"Every single day, shoot your shot.  If it doesn't work, then switch things up."
Meelad is definitely shooting his shot!  When we last caught up, Meelad shared that he was in third place on the scoreboard for that month, under the two senior people on his team.
Keep up your hard work, Meelad!  We're so proud of your success right out the gate, and we're excited to see what more is in store for you at Arm Treasure Data.