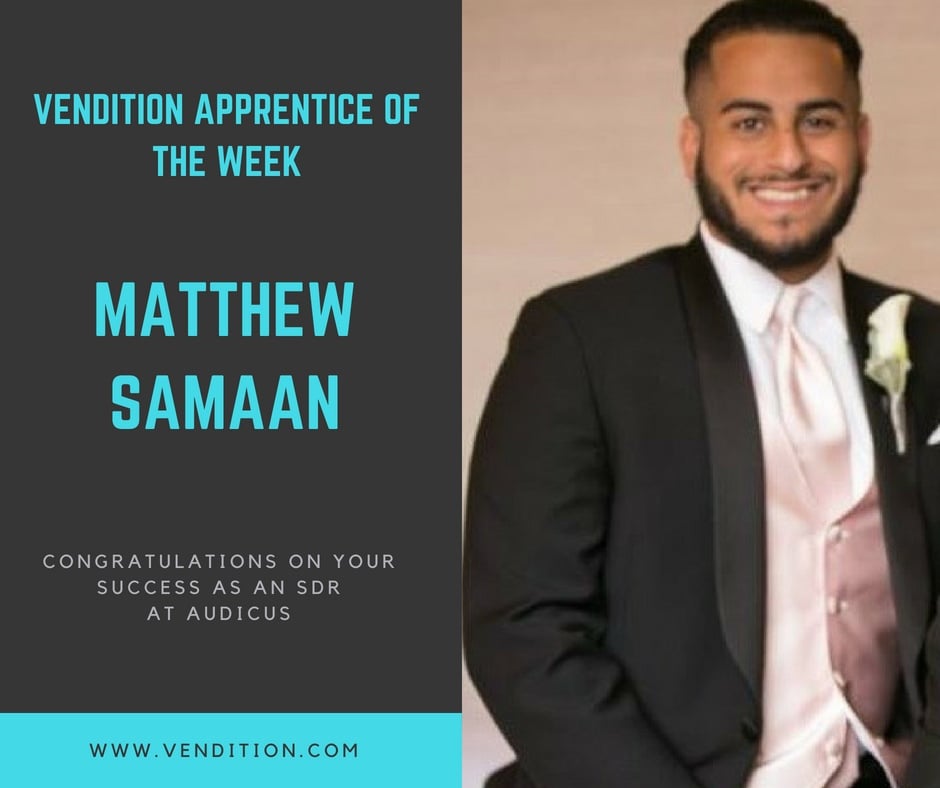 This week, we are highlighting Matthew Samaan as Vendition's Apprentice of The Week! He has been doing an amazing job at Audicus and we are so excited to see what comes next for him.
Upon completing his undergraduate education, he went on to pursue an MBA. Although he didn't initially have an interest for sales, he decided to branch out and look into the industry. Through Vendition, he was able to find the right fit for a company.
Check out our interview with Matthew Samaan to learn his story:
"A few months before graduation, I got in touch with Vendition's Relationship Manager in hopes of landing a full-time job opportunity in New York. Out of all the companies that I connected with, I felt that Audicus, a company they introduced me to, was the best fit for me. Since my first day here, I've felt like I fit in well with the team. If I had any issues, they would give me valuable advice and useful strategies for tackling any questions or difficulties I encountered. One thing I really enjoy this company is its culture and atmosphere, and I am excited to come into work every single day.
"During my transition to Audicus, one of the most important stepping stones in my success was the mentorship from Ashleigh. She was very helpful throughout the entire process in adjusting to the role and she gave me everything I needed to excel. She provided step by step coaching and reinforcements, while tailoring the curriculum to my needs. She even took extra time out of her day to help me out and gladly hopped on a call with me whenever I needed guidance. I was able to get ahead of the team in a short amount of time, and I don't think I would have done it without Ashleigh's help."
Here are some of Matthew's top tips for SDRs:
"Set mini goals for yourself to reach. For example, give yourself a five-minute break after you make thirty phone calls. It's important to take a breather every once in a while.
"Don't let negativity and emotions overtake you. While it may take a while to get used to making phone calls, practicing more will enable you to get more comfortable and be better at completing sales calls.
Closing thoughts:
"Vendition was a great resource for me to transition into the sales industry. When you have a great team to support you, it's not hard to come in to grind. It's not a secret, if you work hard you succeed. After they give you all the resources and assistance you need, it's on you to make it worth it."
Congratulations, Matthew, on your hard work and success! Keep up the good work, and we are so proud of you!