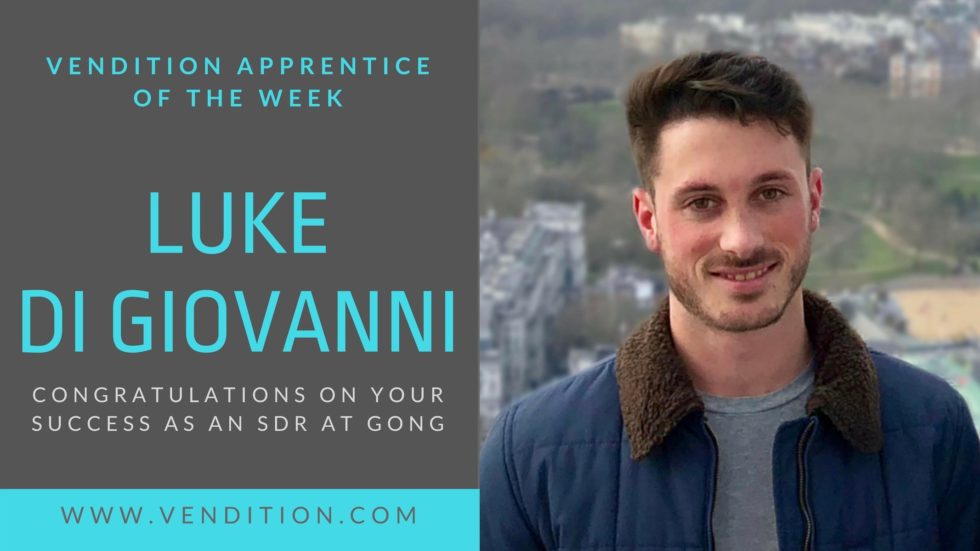 This week, we recognize Luke Di Giovanni at Gong as Vendition's Apprentice of the Week. Since September, Luke has been bringing energy to the phones and loving it over at Gong.

Luke graduated from college in Italy and knew he wanted to make the transition into tech sales upon graduation. We were first introduced to Luke by Pat Wilson, an alum of the Vendition apprenticeship and a high school friend of Luke's.
Read the rest to learn Luke's Vendition story:

"I originally found out about Vendition through someone else who went through the apprenticeship, Patrick Wilson. He does cyber security sales now, and we knew each other from high school. He told me about his experience with Vendition, and it sounded like a perfect fit for me. I had just graduated from college with a completely different background, and I felt like making the transition wasn't so clear since I didn't have a business degree. I studied food and wine in Italy, and I wrote my senior thesis on how tech was changing the food industry. I knew I wanted to go this route somehow.
"I think around my second year of college, I was really interested by entrepreneurship. Everything I read in regards to entrepreneurship said that the most important skill you can have is sales. No business happens without sales, so I really wanted to get the training and find a role in sales."

Luke shares that he found the right fit with sales-related technology at Gong due to his strong desire to excel in sales. "A lot of [what motivated my decision] was that I wanted to become an outstanding salesman. That was more important to me than anything else. If that meant I was selling shoes, cell phones, whatever, I just wanted to become a quality salesperson whatever way possible. The software at Gong is really focused on becoming excellent in sales, which was huge for my decision making. I think culturally, too, things just really clicked. I connected with my team, and I could really see myself grow here. The product itself is really exciting, and it was an opportunity that I don't think many would say no to."

Luke says that from day one to now his head doesn't feel like it's underwater anymore. "I didn't really know what cold outreach was like until coming into the role. I did the [sales] bootcamp, which helped familiarize me going into the process. Through the online training and working with Vendition and my teammates, I've been hitting the pavement and getting more comfortable. What's great about being in my role at Gong is that you have all the Gong recordings too, so you can hear how I sound more confident and more engaging now. It's great, too, being able to measure new things. It's always a good laugh listening to the old calls because now it's all smiles and dials."

In regards to his coaching sessions with Ashleigh, Luke shares that she helped him out the most by really emphasizing that he should memorize everything at first and then turn that into something of his own.
"She basically said, 'Don't be afraid to do what's best for you.' Something else she told me to do was to bring energy on the phone however I can. I walk around, back and forth–I always take calls standing up, I smile more on the phone, and these little things help me have energy.
"Ashleigh taught me to focus on one area at a time. Say each day 'this is the one thing I'm going to focus on, once i knock that out, I can move to the next.' Having Ashleigh help me create my own process was probably the most important thing I took from her coaching."

Luke's top tips for future SDRs:
"Take as many at-bats as you can–it's going to be nerve-wracking at first, but every day gets easier and better."
"Be a sponge and just listen. Listen to the people training you, listen to your coworkers, listen on the phone. Listening is huge and you gain a lot more by listening than you think. "

Luke's tips are working for him, too. In November, he tripled his quota expectations, and in the months leading up to and after November, he's never missed quota.

"It feels good," he (humbly) shared, "I could not imagine a better place for me. I am so thankful for Gong and for Vendition, and I'm having the most wonderful time throughout the process. Let's just say I'm really excited to see what the future has in store for me here."

We couldn't agree more, Luke! Keep up the great energy and great work. We know there's so much more in store for you at Gong and we can't wait to see it, either.