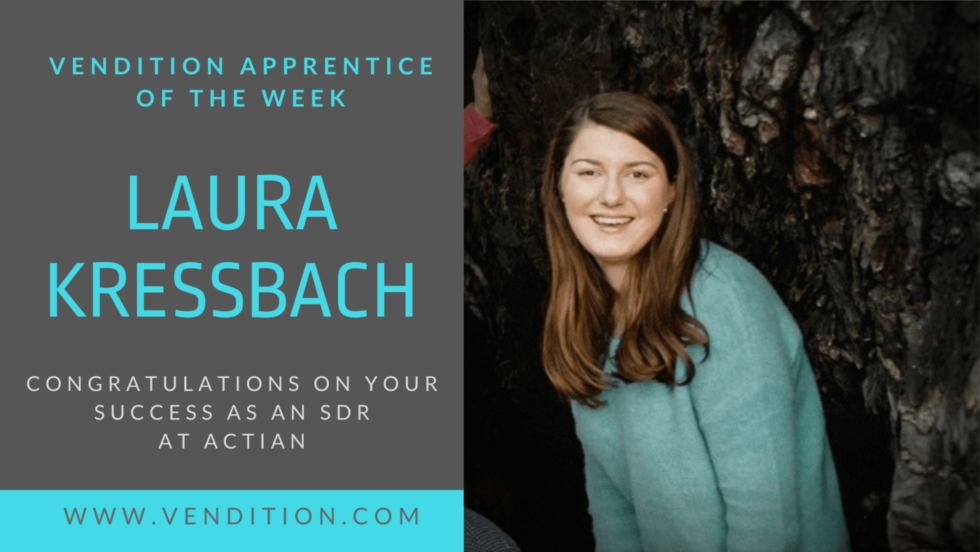 Watching her family run their own businesses and see success in sales roles, Laura always knew sales could be her path. The question was which profession and how to get there?
While in school, studying business she found herself pursuing accounting: a space with a clear cut path.  "When I became a tax associate, I knew a few months in that tax accounting was not for me. I really want to enjoy what I'm doing, and I want to be passionate about what I'm doing." Laura continues, "I grew up in a very sales driven environment. My parents are both in sales, and I felt like I always had it in me. I told myself I would take the leap of faith and see if it works out. I'm so incredibly happy that I did."
The how to get there was quite easy — as Laura searched on LinkedIn, she was able to find direction from Vendition and immediately entered the Apprentice candidate process. As Laura went through the candidate matching process with Vendition and their hiring partners, she felt the most welcomed and supported by the leadership team at Actian. "It stood out to me that Actian really set their reps up for success. Ryan put together a whole playbook, so that when you start you have a 100 page outline of everything that you can refer to, in addition to being able to ask anyone for help."
As with all transitions, Laura said the learning curve was steep given the 180 she took from tax accounting to tech sales.  By the third week she felt she was taking in all the content she needed during their sales kick off. "I was going through four additional days of training, which was great because I had just started and I was learning it all so organically. It was a clear example of the fruits of my labor coming through from onboarding, because I set my first meeting that third week, and today just starting out the month of April I already have thirteen meetings set up for this month."
Laura had the benefit of going through an Apprenticeship along with a few others on her team. They would meet weekly as a group with their Vendition Coach and have additional 1:1 meetings as well. "Our coach helped us with planning our time, outlining different ways to effectively manage our days. If we needed help with our approach to cold calling, he would get feedback from our boss, and it was so helpful because it was as though we had multiple coaches all rooting for us and our success."  
Her efforts are paying off: the day she accepted her full offer at Actian, she had successfully carried out two meetings with fortune 500 companies that have turned into two qualified opportunities. We're excited to hear how those continue down the sales funnel!
Laura's advice to SDRs starting out:
Push through. "The first couple weeks are going to be hard, the learning curve is steep, but if you push past that you'll find your style and start seeing the wins from the weeks leading up to that point.
Ask questions and take notes. "I have such good relationships with my team now because I asked questions when I started. No question is a stupid question as long as you learn from it after you ask."
Be yourself. "I took the leap, and I found the process that works for me."