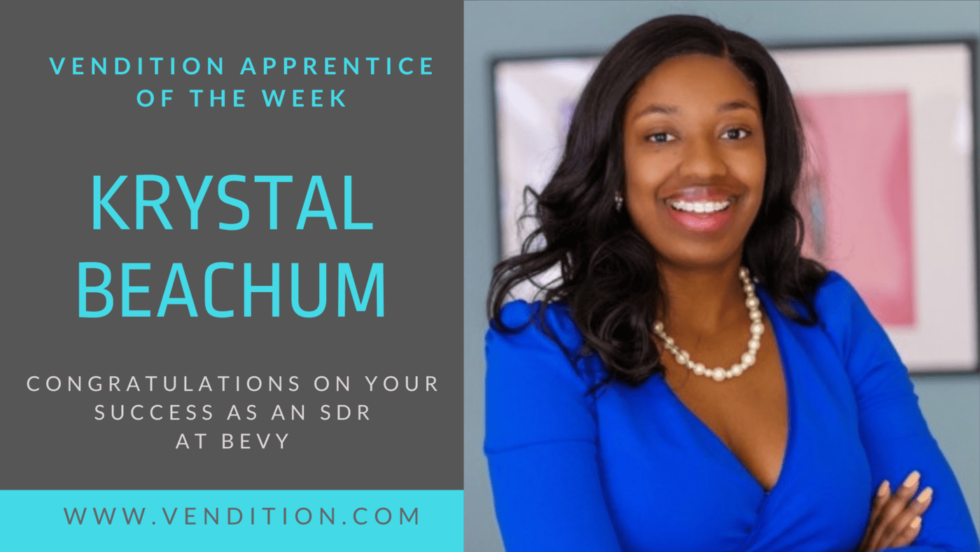 "No one says no to girl scout cookies!" Krystal laughs, "and that's where I got my start.  As you get older, of course it becomes a little bit harder because you sell different products and different services, and in my case I was a former athlete. I had to sell why I was good enough to get an athletic scholarship, why I was a fit for an organization, why people should work with me."
For Krystal Beachum, the discovery of her love of sales was gradual, natural, and it started at a young age with girl scout cookies!   As she progressed in her education and her career, selling became more challenging, more nuanced, but also more rewarding. where now As an SDR at Bevy, she became the record holder for taking the shortest amount of time to source a deal! 
Through her experience in academic, athletic, and entrepreneurial spaces, she knew she could add value to any organization in a sales role because she knew herself and her brand, she could build relationships and trust with anyone she engaged with.
With Bevy's product and the company itself being built around community, it was a perfect fit for Krystal. "I myself have been able to build community within different industries, and I just felt the connection with Bevy because this was already what I knew how to do."  She saw the value in Bevy and its product, and she knew through meeting the team that she'd be well taken care of, challenged, and capable of fulfilling her purpose by working with and learning from her leaders. 
In addition to leveraging the community around her at Bevy, she was also able to expand her knowledge on all the important  components of sales development through Vendition's coaching as well as improve her day-to-day execution. For example, she found that building out the perfect daily schedule was key to her success. "I function best with a schedule, so I came to my coach and I told him I felt like I was all over the place."  Breaking it down with her coach, refining what they put together with her manager, Krystal found the right process and daily schedule to perform.  "My coach has been able to give me a lot of great advice as an SDR and I'm so thankful for that."
Krystal's advice to SDRs starting out:
Ask as many questions as you can. "Make sure you ask questions to people on your team. There's no dumb questions when you're new."
Make sure you meet with your Vendition coach regularly.  
Take all the interviews you can get. "Not all opportunities will be a perfect fit, but each one can be practice."