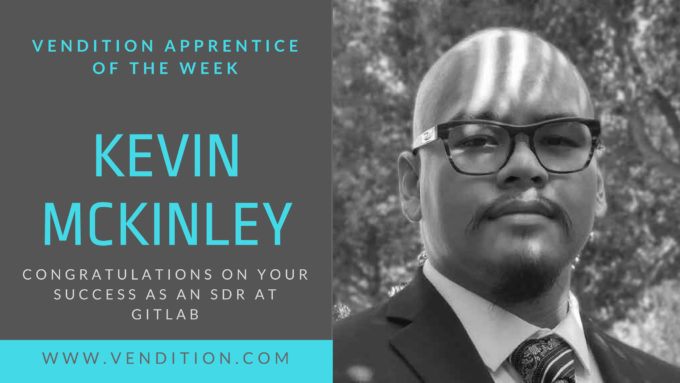 "Whether you're fresh out of college or have spent a few years in the workforce, Vendition can help you break into a lucrative tech sales career," says this week's Vendition Apprentice of the Week, Kevin McKinley at GitLab.
Since May, Kevin has consistently hit quota and has been helping build out GitLab's SDR team playbook. We are so incredibly proud of his hard work and drive!
Here's Kevin's story:
"Chances are if you're reading this, you're fresh out of college and new to the workforce, or you've got a few years of experience and are contemplating a career change. Either way, you want to break into tech sales. Maybe because you heard from someone you know about how lucrative it was, or read about it on Reddit or LinkedIn.
"I did a lot of research before choosing Vendition's Apprenticeship."
Other bootcamps, such as coding bootcamp, "charge a curriculum fee and requires a significant time investment of in-person classes. I was already working full time and didn't want to have to do that on top of my schedule.
"So, after thoroughly researching the available companies, I knew that Vendition was the right program because they 1) help to place you according to your career goals, 2) pay you during your apprenticeship, and 3) provide ongoing support/coaching/training.
"My recruiter helped me prep for each interview. One aspect of the interview prep that I found really helpful was the thorough documentation he provided for each company I interviewed with. What I mean by this is that doing interview research can sometimes feel like you're drinking out of a firehose in trying to understand the market that a company competes in and the solution it provides. And I never wanted to walk into an interview feeling like I didn't know as much as I should.
"With how disruptive and innovative companies in the tech world are, I've found that it can sometimes be difficult to grasp what these companies are doing – especially with the short amount of time you have to prep for an interview.
"Vendition's coaches are themselves well-immersed and personally experienced in the tech world and can help prepare you through the complex aspects of each company you interview with. Because of [Vendition], I was able to moved to next steps and received multiple offers.
"As I interviewed with several companies and received multiple offers, my recruiter acted as a career counselor and helped me understand how to make a choice that would only optimize my career opportunities.
"Where you work is a major decision that determines the course of your life… and I really appreciate how he took the time to understand my goals, my interests, and my personality, so that I would be happy with my choice.
"When I started this process, I was looking for a 1) remote only opportunity that was 2) in a high-growth tech startup, and 3) had a clearly defined path to $100k+ in income. Through Vendition, I've achieved those goals and I got exactly what I was looking for.
"I've been in roles before where on Day One, you're thrown into the deep end without any support and expected to figure it out. The mentality of sink-or-swim and in those places they always had high turnover.  One of my concerns early on was getting churned-and-burned because of a lack of training… Vendition made sure that didn't happen.
"My coach Ashleigh provided actionable advice and tactics every week to help me hit quota. I really appreciate how she helped me navigate my new role, contextualized my progress and how I was doing, and went to bat for me when the time came to secure the full time offer from GitLab.
"Having a world-class coach in your corner is like having a life-jacket. You can have full confidence being thrown in the deep end because you know that you've got the coaching, mentorship, and support to help make it through."
Congrats on your nomination to Apprentice of the Week, Kevin! We cannot wait to see what more success comes your way.