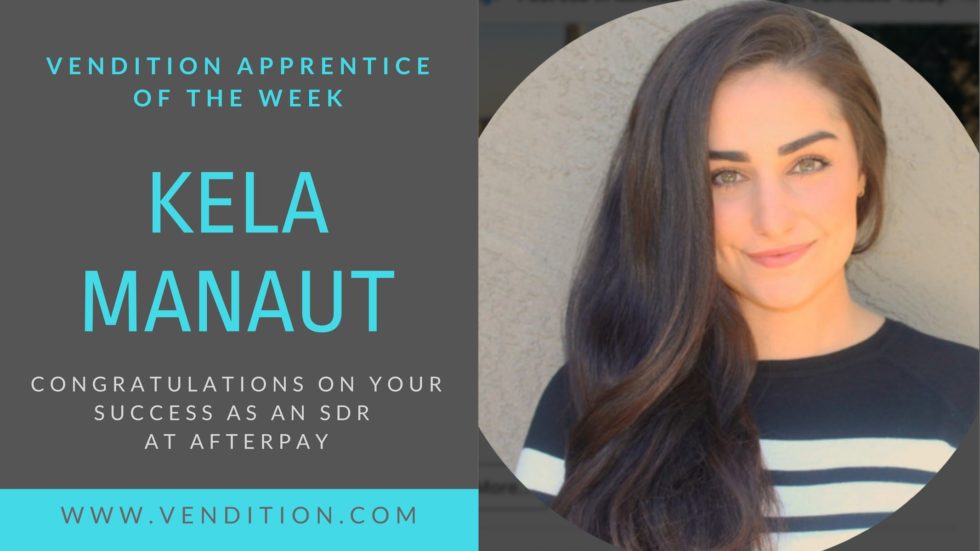 This week, we recognize Kela Manaut at Afterpay as Vendition's Apprentice of the Week.  Kela graduated from UCSD in the spring and started looking for tech sales roles towards the end of the summer.  Since October, Kela has been bringing her goal-oriented mindset to work each day at Afterpay and we couldn't be prouder of the hard work she's put in.
Kela first spoke with me back in September and at the time she shared that she had been reaching out to other companies and interviewing, but she felt she was at a disadvantage because even though she had an inbound and outbound sales internship, she didn't have tech-specific experience.  She shares now that having had some sales experience throughout college, she knew this was the direction she wanted to focus on after graduating.  "I like sales because you're always working toward a goal, and then always moving towards another new goal once you've exceeded the first one."
Kela highlights how the Vendition process worked very efficiently for her.  "I hadn't heard of Vendition until I found it on LinkedIn. Michelle introduced me to a few different companies, but Afterpay was the first company I interviewed with through Vendition and I knew right after my call it was a good fit.  Afterpay has a different structure than every other company I was interviewing at not through Vendition, and the questions they were asking were different. I connected with the product, of course, as well."
Kela shares that since day one to now, she feels she's ramped up pretty fast but learned a lot in the process.  "In terms of the overall role, I feel like [at Afterpay], it's way more than just your typical SDR role. I am the first point of contact and moving to closing and then managing the account.  I'm doing the full cycle, and I feel like I've learned so much."
In regards to her coaching sessions with Ashleigh, Kela says she learned the most about phone presence.  "Ashleigh coached me through feeling awkward on the phone–I felt like I was really awkward sometimes.  I never knew when I had lost someone or not.  Ashleigh helped me understand that every conversation is going to be different, so pause.  Her coaching didn't just help with my skills on the phone, but she also helped with time management. I felt like i was very unorganized starting out, so she helped me come up with a time block schedule."
Kela has one strong piece of advice to anyone starting out in the SDR role: "Take initiative.  Don't just do the normal duties for your day-to-day. Think of other projects to stand out from your team and that will contribute to your growth path."
Kela's advice is worth taking to heart.  "During my apprenticeship, I hit my quota really close to the end of quarter, which is something I was really proud of.  I originally didn't think I was on track to hit it the first month in, so it was really great to surpass it towards the end of the quarter."
We can't wait to see what else is in store for you at Afterpay, Kela!