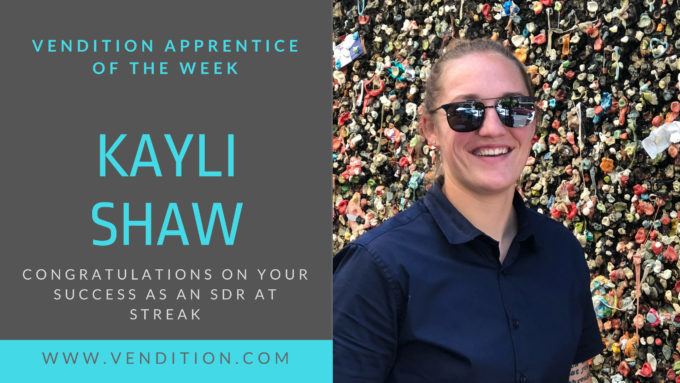 This week, we're highlighting Kayli Shaw over at Streak as Vendition's Apprentice of the Week.  Since August, Kayli has brought her competitive nature from collegiate sports to her SDR team and helped build out their process.
Kayli graduated from San Francisco State University in the Spring with a Bachelor of Business Administration and Management degree. Having been a student athlete, Kayli felt inexperienced going into the job search without having had free time for summers internships and the like, but Kayli found her stride at Streak.
Read the rest to learn Kayli's Vendition story:
"I started working with Michelle in July.  I was down to try out [working with Vendition] because I played college softball and I didn't have time for internships.  The feedback Michelle would give me was so helpful for me with the interview process, and when I had the phone call with Peter at Streak, all things fell into place."
Kayli cites her outgoing personality and ability to put herself out there as part of her connecting with Streak.  "Whatever happens, I feel, is supposed to happen. After talking to Peter and both of us having sports backgrounds, he seemed receptive to what I had to say.  My experience didn't matter, it was more about my personality and what I could personally bring to the team. He's very transparent, and the whole office was really welcoming and warm.  The team was also receptive to who I was and not just where I was coming from."
Having a background in business management, Kayli was looking for an opportunity where leadership and management were down-the-road in regards to long term growth potential.  "Day one, processes were still being put in place at Streak–myself and two other SDRs were basically creating the process that's now being used. Through trial and error, we've figured out those processes, and it's cool because the Vendition SDRs who started with me are kinda more leaders now, too.  Feeling like we're leaders in our roles was something I was looking to get out of a role."
Kayli highlights her coaching sessions with Ashleigh as a major source of confidence building coming into the role.  "Basically, Ashleigh's willingness to answer absolutely any question in a way that really fits how you would understand it was a huge aspect of our coaching sessions.  She really takes the time to learn who you are and how you learn, and then what tactics work best. I was really nervous to be in this role because I felt like I didn't have the experience needed upfront and really I just felt lucky to be there. Ashleigh told me, 'No Kayli, you're one of the best that I've coached in awhile."  I had to learn that I was meant to be here, that I was chosen by Streak for a reason. I feel strongly that if Ashleigh hadn't understood who I was, she wouldn't have made that realization possible."
Kayli's manager at Streak, Peter, shares, "Kayli is a natural born hustler and strives to achieve results not only for herself but also for her team.  Beyond just grinding, Kayli also has always been the first to jump on creative outreach techniques involving video, direct mail, and social media.  Her energy is infectious, and we're lucky to have her as a Streaker!"
Advice from Kayli to other SDRs starting in the role:
"Take it day by day, and don't put too much pressure on yourself."
"Take a step back and understand yourself first, then understand what your process is meant to look like."
"Be willing to push that envelope, and look for other people not to compare yourself to but to compete with. You're only capable of doing what you think you're capable of."
Kayli's advice is worth major consideration: since starting in August, her team has been able to close her first outbound deal.  Kayli explained that this one close was significant because the outbound process is relatively new for Streak, and they've only had two outbound handoffs that have closed thus far.  "What we're doing is working, outbound started with us so to know that what we're handing off is doing well for our company is a huge success in my book.  We've been working on a lot of big deals, and the one I passed off could be the biggest we've closed. This just keeps pushing me to keep mowing through those leads."
We're so glad to have connected with you back in July, Kayli.  There's no doubt that you'll continue to see success at Streak and grow in this role.