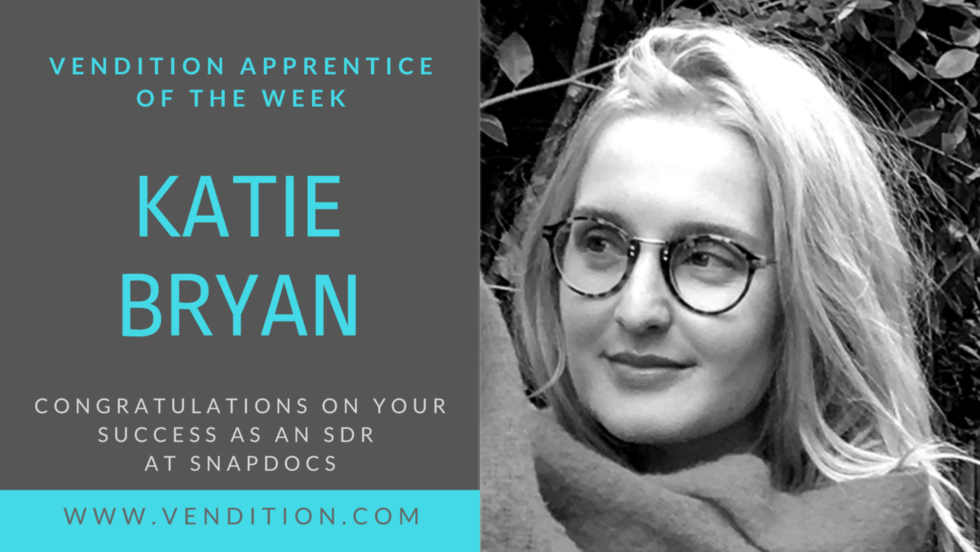 This week we recognize Katie Bryan at Snapdocs as Vendition's Apprentice of the Week!  Katie first connected with the Vendition team in the spring of this year when she was looking to make the transition from the nonprofit space to tech.  
Read the rest to learn Katie's Vendition story:
"I had done sales prior to nonprofit work, where I was selling wine. I do think the question for me would be, 'when did you realize when you wanted to shift from nonprofit work to tech sales," because it had been on my horizon for a while and what I found most appealing about working with Vendition was that it gave me a place to start.  I had zero connections in the tech space–all my connections were from school and nonprofit. When Julian called me, the timing was perfect. It was exactly what I needed in terms of navigating the space."
Katie shares that her approach to job hunting shifted quickly.  "One big thing I learned: I was going about my job searches the wrong way. I was focusing on mission strictly, because coming from nonprofit and liberal arts education, you're very theory heavy.  With firm values and beliefs, which is not to say that that doesn't come from other sources, my focus on mission statements was leading me back to nonprofit. Working with Vendition helped me to shift my mindset that you know, 'maybe thinking about mission statement isn't how you need to narrow down your list.'"
Katie says she also learned more about growth opportunity from the SDR role.  "The second thing that I didn't think about as much was company size and being top of funnel.  I had known sales was something that I wanted to do and the more I looked into this path, the more I learned that there's a lot of growth from the SDR role.  I knew that at this age and this point in my career, I needed to actually feel like I was getting traction with my next role. 
In regards to why she felt a connection with the Snapdocs team, Katie says first and foremost it felt genuine.  "I think, for me, it was that every single person I saw greeted me with a smile. The energy and teamwork were palpable even just for stepping into my interview.  Everyone felt genuine, which really undid some misconceptions I had about the tech space. You could tell that everyone here wanted to be a part of the solution not the problem."
"Empathy is a big pillar within our core beliefs, there are problem-solving aspects to our technology to make real estate closings better for everyone.  While I feel like every startup needs success to grow, the focus here is really on 'how do you make people's lives better?' It's been slower to adopt technology in the real estate market and this is a unique sector to introduce new technology, so I find it particularly fulfilling.  It feels very down to earth–everyone who's working at Snapdocs is doing it for that reason. You can feel like your work is more valuable even if it's in a for-profit setting."
Katie shares that her two biggest obstacles starting out were learning the lingo and the industry. "One of the biggest learning curves I faced had more to do with language–like when people would say 'top of funnel'–I found that there were some terms that I was unfamiliar with.  Another learning curve I faced was learning the industry. Compared to a lot of other products, this one is challenging. You have to be willing to put aside some extra time to learn the industry and context because it's hard to handle the objections you hear when it's such a specific industry.  I think there's good strategizing beyond specifics just by having good practices and having emotional support."
"Our company is continuing to discover what pain points our target audience are facing, and in terms of messaging that makes it a really interesting challenge.  I just found that through practice and really hammering it in, being thoughtful about problem solving with potential clients and coming at it from a consultative approach helped me see success."
Katie says that one thing wasn't so difficult to take on: cold calling. "I've done a lot of cold calling in nonprofit and prior to that, so one thing that wasn't hard to adjust to was the cold calling.  This has been the easiest calling cold outreach I've ever done because we have an account-based model and the focus is on personalizing."
Zeroing in on her coaching sessions with Sam, Katie shares that Sam helped her to zoom out and look at her approach from a different lens. "Sam worked with me to focus on ways that I can make the most use of both of our time.  Specifically with this industry, really tackling urgency as a specific objection was a big hurdle. It's an industry where people have been going 20 years without technology. Sam helped me by saying, 'So it sounds like you're doing a lot of things right, but it also sounds like there's a gap with urgency.'  We'd try to figure out, 'is it my tone? Do I sound like I don't know enough?' and Sam's ability to cut through the noise and provide a second set of eyes really helped. It's hard to have that level of distance to yourself."
Katie's Tips for SDRs starting out:
"People can overthink, so constantly remind yourself that you're talking to other people in the world.  Focus on personalizing and put yourself in their shoes."
"Lead with trying to figure out 'how can I help them,' and not 'how can I get them to answer?'"
"Get a good rhythm for how to do research and personalize–time management is key."
"Have genuine conversations and gain trust, it'll only help you."
Katie's advice is worth taking to heart.  In her time at Snapdocs thus far, she's hit quota every month, including her first three months as an apprentice.  In her most recent month, she hit 125% of her quota.
Keep up your consultative approach and learning mentality, and we're certain you'll continue to exceed your goals at Snapdocs, Katie!