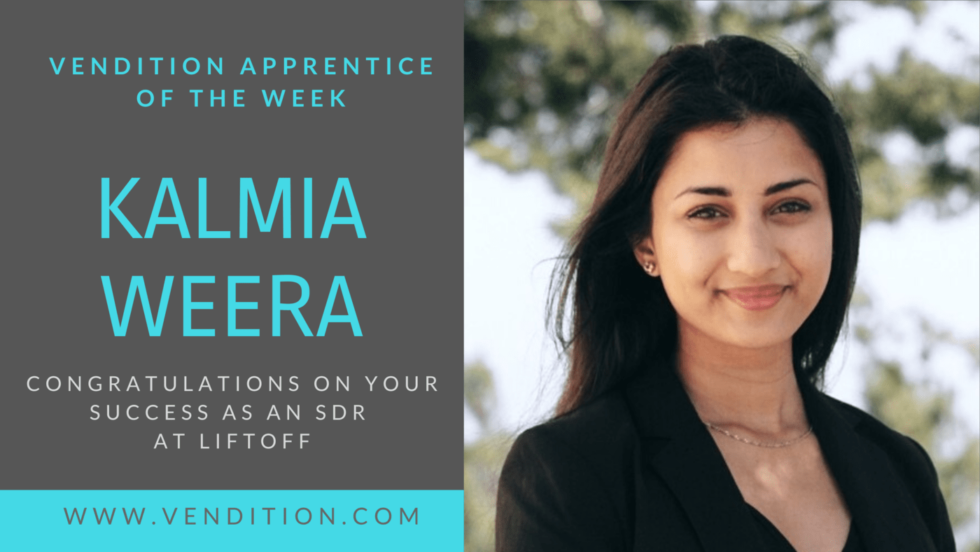 This week, we recognize Kalmia Weera at Liftoff as Vendition's Apprentice of the Week.  Kalmia had graduated from Pepperdine University in 2019 and started working at a Montessori she had previously worked at as a Teachers' Assistant post grad.  She knew she wanted a change from the work she had done while in school, and that's when the Vendition team first connected with her. Her stars aligned when she met with Liftoff's sales leadership and it's been an incredible start to Kalmia's sales career in the months since.
Read the rest to learn Kalmia's story: 
Kalmia says that her expectations of the sales profession changed quickly at Liftoff, and she's enjoying it more than she ever anticipated. "Landing at Liftoff gave me a lot of confidence and more of an idea of how varied sales positions can be. My experience at Liftoff has been so different from what I thought it would be. They have much more of a consultative sales process which is in line with my personality and style. As I've become more comfortable after training and understanding what my day to day would look like, I've found I really like sales, especially here at Liftoff!"  
Culture and values immediately stood out to her, in particular she connected with the emphasis on being humble, having courage to change and remaining data driven in the day to day.  In addition to core values, Kalmia says that the culture is open and she can get help from her teammate or even her VP of Sales.  "Everyone is so open to helping you and there's just like a wealth of knowledge sharing that I appreciate as well.  You have your independence, you figure it out, but you also have that access to everyone."
Kalmia's first month in her Apprenticeship was strictly getting the hang of the space. Past the initial onboarding, Kalmia says, she was able to figure out her own day to day while tackling selling a new product line for Liftoff. Kalmia also had her coaching sessions with Sam that changed each  week depending on the challenges she came across as she grew in the role. "Having Sam just dive right in and figure out what are the kinks, what could I do at the moment, what do I need to understand; having him there to coach me through what I could focus on and how was something that really helped me.  Sam was also able to give me perspective through coaching as well as lessons from his past experiences to help me implement my own workflows."  Given the Liftoff SDR team of three all went through the Vendition Apprenticeship at different times, having Sam as the common thread through mentorship and coaching created an even, strong bond across her team and consistency through practices. 
Kalmia considers the Apprenticeship a simple but major win: she was able to ramp up, hit the ground running, and graduate from her Apprenticeship after starting just a few weeks before the pandemic hit.  "Yeah, it's interesting because the only time I've ever prospected has been during Covid. So for me to understand that… that environment itself and have been able to open a few opportunities, I consider that a success for myself."
Kalmia's advice to SDRs starting out…
Be Patient with Yourself.

"One thing that I had to learn was that you have to be patient with yourself in learning the product, the industry, and the company to really understand how you can make an impact. That takes time."

Don't Be Afraid to Ask Questions. "I've learned that no question is too big or too small to ask anyone. If someone doesn't answer your question, go ask the next person… there will be someone who can answer your question."