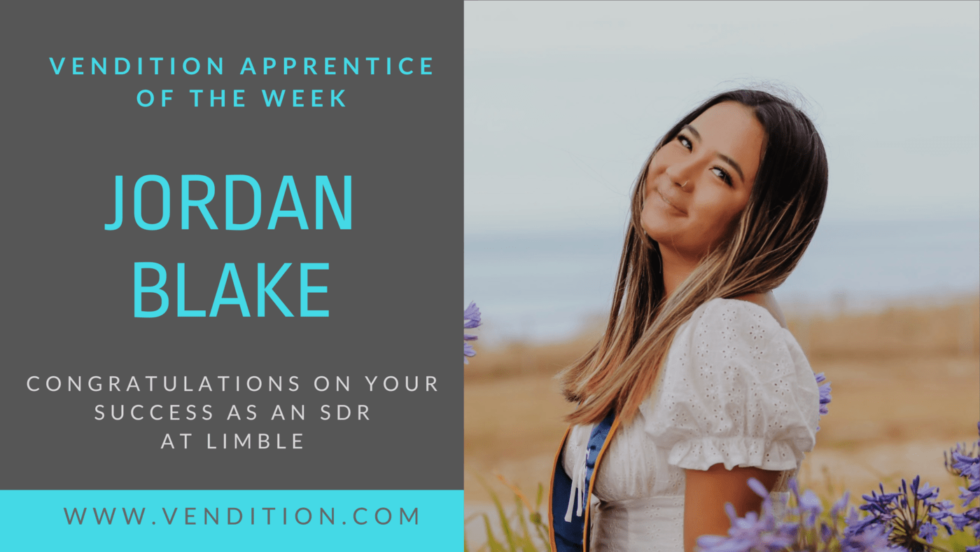 Jordan Blake found herself at an interesting crossroads when graduating in the midst of the pandemic.  She had a job lined up before graduation, but like many others, was rescinded due to Covid-related hiring freezes. 
It wasn't until she found herself in a part time retail role successfully selling credit card and reward sign ups that she realized just how good she was at selling. "Sales is in everything you do, and I never realized that selling was the part that I both enjoyed and excelled at most in every prior role I've held until I was put in this new situation."
As she was considering her options for making the move into tech sales, Jordan felt that Limble stood out because of the people. "Across the companies I was considering, I remember thinking every company and their product was really cool, but the team at Limble really emphasized how much they wanted to invest in me, and I found that they were so easy to talk to and connect with."  When she received her Apprenticeship offer, Jordan notes, her future manager Aniston took the time to answer any lingering questions she had to ensure she was ready and excited to move forward with their team. "It was just a nice, casual conversation. I felt that she genuinely cared about me and cared about helping me make the best decision for myself."
Jordan knew that it was going to be a grind getting started in the role, but it turned out to be even harder and more rewarding than she thought it would be. "It's so much more than just being good with people–you have to be able to just take in little things every day, learn, and never stagnate. With other jobs I've held, it turns into the same thing every day, but in this role, there are always new things to learn and different people you can learn from." 
Her Vendition coach was there with her through the grind, providing guidance and a different perspective. "It was nice to have Eddie perspective because not only has he done sales before, he's done it at a bunch of companies.  Everyone at Limble is great, but they've mostly only done sales at Limble, including my manager. So I feel like it was nice to have someone with a breadth of experience in a lot of different sales environments to bounce ideas off of." Having a 3rd party coach and mentor also felt really reassuring. Sometimes as a new Apprentice you're nervous and it's nice to know you have someone who won't judge you, whatever the question or thought you have. "
Jordan was able to take the resources she gained from her teammates, her leadership, and her Vendition coach to really hit the ground running.  Since starting, she's surpassed her quota every month and won "MVP of the Week" a few times.  At the time of our interview, she was promoted to SDR Team Lead–and it's no surprise to the Vendition team why she's seen so much success starting out. 
"A goal of mine from the beginning was to always do a bit better than what was expected of me. I told myself that I never want to just hit quota, I always need to do a little more."
Takeaways from Jordan for future SDRs:
When joining a team, join the team you truly feel a connection with and feel they're invested in you.
Don't be afraid to leverage your coach! With their experience, they can easily point you in the right direction.
Don't be afraid to ask questions. The sooner you ask, the sooner you learn, and the better you can do faster!