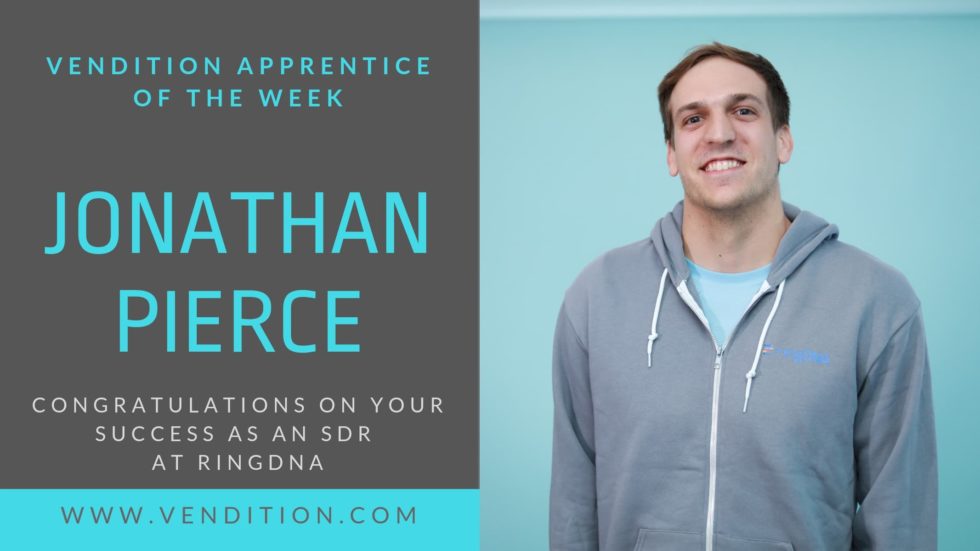 This week, we're highlighting Jonathan Pierce at RingDNA as Vendition's Apprentice of the Week. Since December, Jonathan has focused on becoming the best possible sales rep he can be, and he has continued to exceed the goals set for him since. 
Read the rest to learn Jonathan's Vendition story:
"The first time I had the opportunity to do sales was my sophomore year in college through a summer internship. At the time I was going to school in Texas at TCU, and I was chosen for this program to go up to Omaha, Nebraska where I door knocked. [In that one summer] I made about $45,000. After going through that, it led to several different sales-related jobs. I worked with a brewery in college and did sales with them. I managed a liquor store and managed all the sales there. Then after I graduated, I started working with Kraft Heinz where I managed about fifteen grocery stores.  In that role, I would make sure orders were being placed and then be responsible for incremental selling for holidays. I got tired of the scenery in Texas, so I quit my job and moved to California."
Jonathan credits his desire to build a more solid foundation as his motivation to work with the Vendition team and pursue his next role at RingDNA. "The reason why I chose Vendition over other opportunities was that I knew that I had the ability to be a good salesperson just from having quality big wins previously, but I didn't feel completely confident in my strategies. I did research on Vendition and RingDNA, and I knew that I needed to invest in my sales techniques to ultimately be the best sales person I could possibly be. The biggest thing for me was that I was switching industries, and I knew I could be more successful, more quickly going the Vendition route."
Jonathan saw a lot of changes as he started out in his role at RingDNA. 
"When I started, I was the fourth BDR brought on in December, where I had two weeks of training before the holidays hit. In January, I came back into the office and the director of sales position became vacant, so I had no direct management in house. I fell into this rut because of that, and working with Vendition more closely in February and March really helped me fill those gaps where I lacked experience before. I ended up tripling that quota the team asked me to do. Without the coaching and training that I received three times a week, I feel that I wouldn't have really accelerated my learning and been brought up to speed the way that I was able to do so."
In regards to what's helped him be successful in his transition to a more technical sales role, Jonathan credits practice. "I felt that really breaking down in role playing, going over my verbiage and what I typically say over the phone helped. It helped with honing in on what I'm good at, and having Sam and Ashleigh diagnose what I'm doing wrong and prescribing something to fix it, of course, helped as well."
When asked about what he'd recommend to SDRs just starting out in the role, Jonathan shares that being open-minded is critical starting out: "Be open-minded and be ready to be coached and criticized. Criticism in the workplace nowadays is taken with a harsh tone, and I found myself not being able to listen and try new things. One thing that really accelerated my learning was changing that mindset. By taking in and inhaling everything my coaches said and then teaching me to actively try to apply those strategies into my sales process has helped me see success through those changes. Sam and I were working on one of my common objections and I told him that I wasn't sure his suggestion would work. He said just try it, and it worked, so now it's part of my process. Being mindful of critiquing and feedback has truly helped me in this role."
His advice is worth noting. With the opportunities he's opened up for RingDNA thus far, Jonathan's been successful in bringing on quite a few larger customers. Particularly of note: "I tripled the quota set for me in the month of March."
"I was feeling like I didn't have much direction [initially] and things completely went the other direction once we really honed in on my coaching. I feel that my story could be great for people who are probably decent at sales already but want to truly improve their skill."
Your drive and dedication to perfecting your sales skills will take you far, Jonathan!  The Vendition team is proud to have been your first choice with making this transition to tech sales, and we can't wait to see what success will continue to come your way at RingDNA.
Co-written by Shannon Chau and Kristin O'Donnell