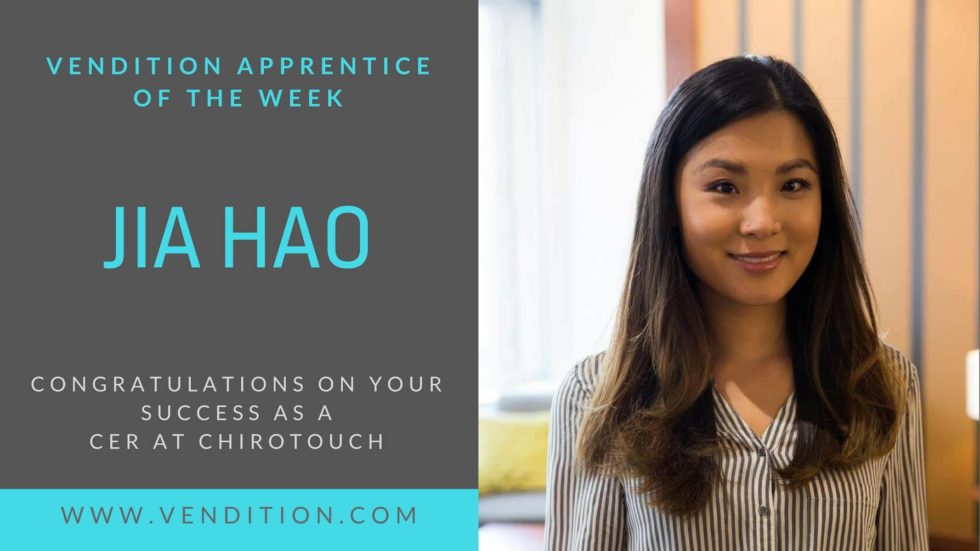 This week, Jia Hao at Chirotouch has been nominated to be Vendition's Apprentice of the Week.  Jia came from a background of marketing and communications and she wasn't feeling motivated in that particular role.  She focused her efforts for a new role in sales and has been seeing success at Chirotouch since. Jia shares that, "As a sales rep for Chirotouch, I help chiropractors all over the US and world improve their business and maximize efficiency."
Read the rest to learn Jia's Vendition story:
"In my previous position, I was doing marketing and communications for a non-profit.  I wasn't feeling motivated and I know that I get motivated by achieving goals. I had sales skills from being a waitress through college, which I feel really gave me a lot of interpersonal skills as well as grit in dealing with difficult customers. I had found out about Vendition because Julian had reached out to me right after I had just moved from Chicago to San Diego.  His message really came at the perfect time."
Jia says that she connected with the people and the company through her research and first-off interactions.  "When I interviewed with Kevin, he wanted to make sure that I wanted to be in sales–it was important to them that I was serious. It was a commission-based job that would require a lot of discipline, and he wanted to make sure that I knew that.  I think they liked me and I came across as motivated, and what made me like Chirotouch was a mix of personal experience and research. I came in and shadowed with one of the sales reps. It was really helpful because he let me listen, and he shared with me that he didn't know what he was doing when he was first starting but now he's got it down.  My [now] coworkers were supportive and positive and through research on my own I knew that Chirotouch was up and coming and growing really fast. It was also a stable and secure company and in San Diego, there are a lot of startups, so that was important to me."
Day one to now, Jia says that it's been a learning process the whole way.  "To be honest, my day one I really didn't know what I was doing. Prior to starting, I hadn't worked an inside sales jobs.  Training with Ashleigh was really helpful — she helped me set goals for the week and then she'd have me adjust one thing each week.  That incremental change helped me to overcome fears. It was a slow process and something I use today to continue improving slowly now.  I feel like I'm getting to where I want to be."
Along with the incremental changes, Jia notes that Ashleigh was able to assess her personality type which helped majorly in shifting Jia's mindset. "I told Ashleigh that I sometimes get nervous if I hear that the other person is in a rush and I don't want to kill that lead. Ashleigh helped me realize through our coaching and her assessments that I'm an empath.  She told me that this could help me in the sales process or it could potentially be a downfall. She helped show me how to use that empathy to my advantage."
"I'm originally from Chicago, so when I was getting assigned territories I asked for the midwest. I've had a lot of small successes just getting through to the front desk — and I feel like my ability to connect has helped in not treating me like just another sales call.  It seems like instantly their guard is down."
Jia has one tip for future SDRs in regards to mentality:  "Don't get discouraged by the rejections. You will get better as long as you try. As long as you are actively putting in the effort to improve, you will."
Her advice is worth taking to heart!  Jia's manager Shay shares that Jia's hustle has been key to her success.  "We brought Jia onboard a couple months ago. From the very beginning Jia has done an excellent job exhibiting our core values of Professionalism, Hard Work, Great Attitude and Proven Results.  Jia is consistently a high outbound caller, strives for excellence, and is eager to learn from others on the floor to improve her conversations."
Congrats on your day-to-day successes, Jia!  We can't wait to see what else is in store for you at Chirotouch.