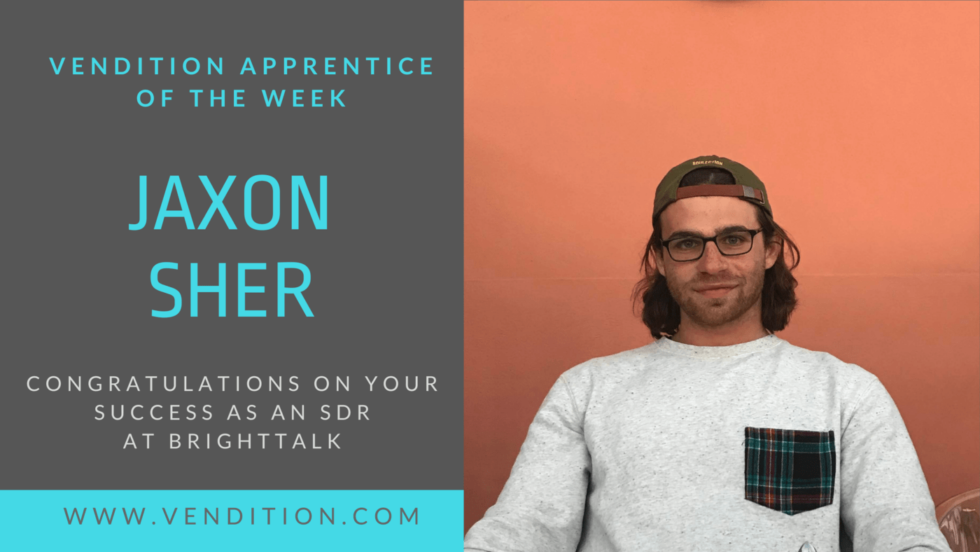 Being raised by a salesperson, completing a marketing degree and two sales internships, Jaxon thought sales might be a good path for him to pursue. But it was through his father that Jaxon was able to learn about just how much impact sales could have on an individual and an organization, "I like the idea of being able to help businesses solve problems. With BrightTALK, for example, I've seen firsthand how much we've done for marketing campaigns and how we've been able to help people make their own lives and careers easier."
BrightTalk is a platform where marketers can present digital presentations and talks to inform their audience and share information. As you can imagine during the shutdown and in this remote environment, it was a product that many people leveraged more than before. 
Jaxon reflects the ramp up was very intentional and layered; first focusing on calling prospects, then adding in email, and then social selling. As he was growing into these responsibilities he was also finding out more efficient ways to prospect. However what was most effective to Jaxon in scaling the learning curve early on involved listening in on live calls and meetings. "We sit in on the first meetings we scheduled, we don't just schedule it and then leave it to the sales executives. I've learned so much just from being on those first meetings. I'm picking up things from the different sales executives as to who BrightTALK is and what we do. By month three, I felt like I had been there for five or six months based on everything I learned."
In addition to the hands-on training, Jaxon was able to leverage his Vendition coach in helping him stay level-headed and set expectations. "I remember one week I just couldn't get any traction with any of my calls or emails and he told me, 'Just relax, these things come in spurts.' I felt he was really helpful and encouraging, I didn't have to be setting five meetings a day to be successful. That's not realistic, and definitely not sustainable." 
Here are Jaxon's takeaways for a successful SDR opportunity and ramp-up:
Wait for the right opportunity.

I really liked that there was an education component to BrightTalk's product and that the content was free for people. It feels meaningful to be at a company where your sales conversations can make people's lives better and careers easier. 

If you can jump on live calls, do it!

You learn so much just listening to the dynamics and different scenarios that come out of live calls and meetings. There's really no replacement for learning opportunities like this.

Stay even-keeled.

Some days you won't get any traction on calls or emails, but some days you'll crush it. Remember, Rome wasn't built in one day. Just keep at it!