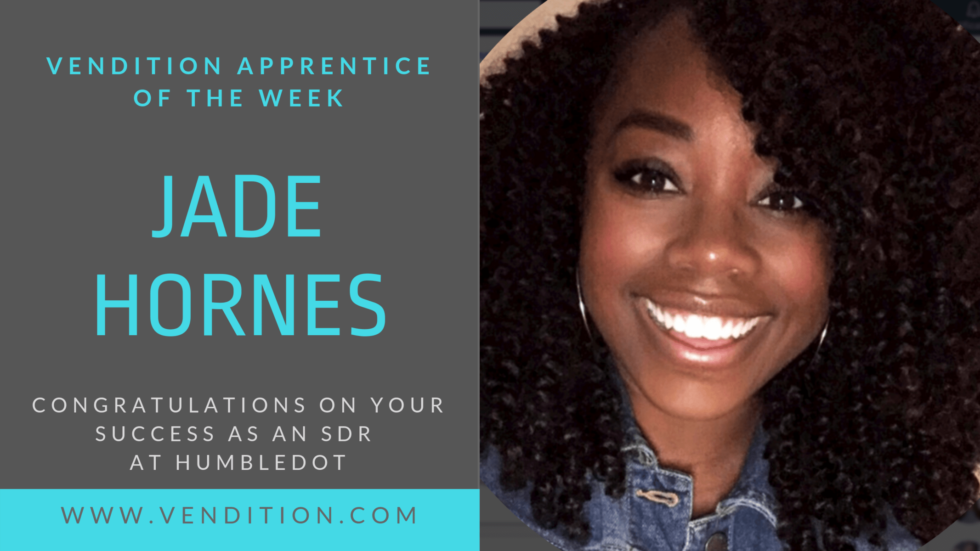 This week we recognize Jade Hornes at Humble Dot as Vendition's Apprentice of the Week.  Coming from the sales operations space, Jade realized she wanted to be a part of the action.  It was then that she got in touch with the Vendition team. 
Read the rest to learn Jade's story: 
"I actually had a little sneak peek into sales when I was working at Uber as a coordinator.  My role was Sales Training Coordinator, which is basically sales operations on how to train sellers from inside out.  It was a 6 steps training program, and I worked really closely with sales trainers in product marketing. I found myself thinking, 'Why am I just training these folks?'"
Jade shares that she could've moved into a sales role where she was at, but she was looking for more impact with this transition. "I feel I could've easily transitioned into sales at Uber but I wanted to find a place where my value would be more measured. I found Vendition, and I saw so many great reviews so I told myself, 'I'm going to give this a try.'"
In the process of working with the Vendition Relationship Management team, Jade shares that she knew the apprenticeship was the right opportunity for her. "This is the perfect opportunity.  To give a team one person solely dedicated to each SDR's journey into the role, well it's just a done deal, I'm already sold on this process."
In regards to why she knew Humble Dot was the right fit?  She knew she'd have impact. "I feel like I connected so well with Humble Dot because I was looking for a company where I knew from the smallest entry level position they would value me. I have a pretty extensive background in tech, and I found that the bigger a company can be, the less valued an employee can be.  I wanted two things: to be a part of a small team and watch it grow and then I knew I could sell anything, but I wanted to believe in the product. I looked at Humble Dot: small team, check, and then deep diving into the tool, I knew this is something everyone should live by. I knew I could build rapport and from the first phone interview to going onsite, I knew we would connect. I was genuinely passionate about this tool."
Jade recognizes that starting out she had a different mindset than where she is today. "Complete transparency: day one of my Vendition apprenticeship, I wanted to impress everyone.  But I've found that sometimes wanting to impress everyone can come off as pushy and no one wants to be a pushy salesperson. I learned how to be comfortable, how to show your hunger but be humble as well."
Working with her coach Sam helped her see her full potential so early on in her role. "'Whatever you can do to help everyone, just do it' was advice I got from Sam.  Sam is actually my career and life advisor. I love that guy. Mentors see that potential in you that you don't yet see in yourself, and I really see him as a mentor. He challenged me to go above and beyond to think differently.  He'd say, 'You can do this, I see it in you. So just do it.'"
Tips for SDRs starting out:
"Always be hungry, and always be curious. I say that because you should know that it' going to be hard during the apprenticeship.  Know that this position is not set in stone, so you can go up and do more.
"Always be willing to meet more people, be open, and learn more from not only your boss but your peers as well."
"Always ask why (well when appropriate of course). As a company, these are our goals. Find out 'Why are these our goals?' A week from now, a month from now, a year from now your goals will shift and by asking why, that shows your manager and others that you're invested in growing this organization."
"Throughout the apprenticeship with Humble Dot, it felt like I'd been there for a year.  Without going through the bootcamp, and always having a mentor there from Vendition, I may not have accomplished what I've been able to accomplish so far.  I've been able to build a whole SDR playbook by mapping out the whole SDR workflow to help the next SDR start.
I never thought three months ago that I'd be able to do something like that.  The other day, my manager said, 'Can we just get another Jade?'"
Keep up your energy and drive, Jade!  We're so glad you decided to make this transition with Vendition, and we can't wait to see your continued success at Humble Dot.