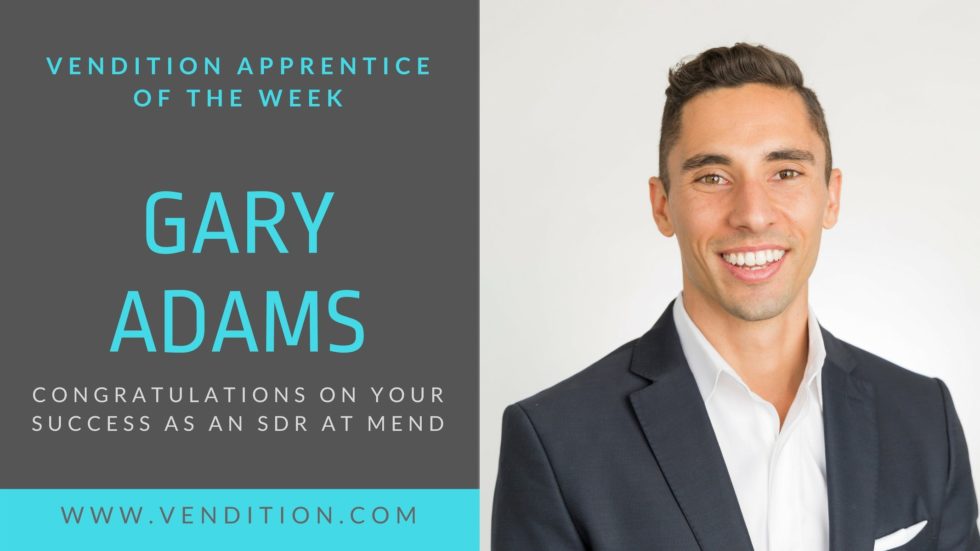 This week, Gary Adams at Mend has been nominated to be Vendition's Apprentice of the Week. Since September, Gary has been throwing himself into the SDR role and is now integral to the management team at Mend as they continue to grow.

Read on to learn the rest of Gary's Vendition story and his meteoric rise to management:

"I found Vendition through LinkedIn. I was looking for sales education programs, and I was thinking about spending money on a class. So when I saw Vendition on LinkedIn, and I saw that instead of spending money on a class, I could earn money, and I could learn how to be a salesman, the choice was easy. I had been looking for a few weeks for sales opportunities. Basically I had started a business before and I thought sales was not my strong-suit at the time. It was an area that I needed improvement in."

Gary shares that he felt he had the right background and interests when it came to connecting with Mend. "A lot of my experience was in healthcare, and [Mend] is a technology start up in the healthcare space. The company I had started before was essentially a staffing agency in the healthcare sphere with a tech twist, so Mend aligned extremely well with exactly where I wanted to be industry-wise. It's an innovative idea that I knew would expand a lot out of the space it's in right now.

"After I started speaking with Mend, we hit it off extremely well. As a company, we believe strongly in starting business, and we all had the same openness as well. Really we just hit it off."

Gary says that from day one on the job to now, he feels that he's learned so much more about how to be successful in sales than he ever anticipated. "It's been a learning experience where I thought I knew the basics on how to be a salesperson, and I really didn't. I've learned a lot from Ashleigh, and I've learned a lot from Mend. This apprenticeship has made me into someone whos more influential and into someone who can create a process."

At Mend, Gary shares, the sales process used is essentially identifying a pain point and seeing if Mend is a fit "in a way that's helpful, not 'salesy.' Being able to ask questions has been the most helpful part of coaching sessions with Ashleigh."

Top Tips from Gary for future SDRs:
"Go the extra mile in everything you do–stay later, speak with leadership about your mindset and what's important to the business, and what is next for the company."
"Make sure that they know what your intent is, and where you want to be in a few years so you can excel in the role you're in now."

Gary's go-getter mindset really translated well to quick growth in his role at Mend. "So I completed my three month apprenticeship, and I converted into a full hire. A week later, I moved into a management position, because they created a role for me to become SDR manager. Immediately I was managing the team and they moved another guy I started with to inbound — so we're both rocking it.

"What's really interesting is that now I'm handling the hiring of a new SDR. From all the people we've spoken with, screening out, the best ones who I have personally interviewed are the Vendition candidates. And I'm handling all of that. Vendition was speaking with me as a potential apprentice and now I'm the hiring manager looking at new apprentices.

"I'm just enjoying so, so much how my life is, and all the people I know from this role at Mend."

We're so happy you found your fit at Mend, Gary! We look forward to seeing you continue to grow your team and yourself in this role.