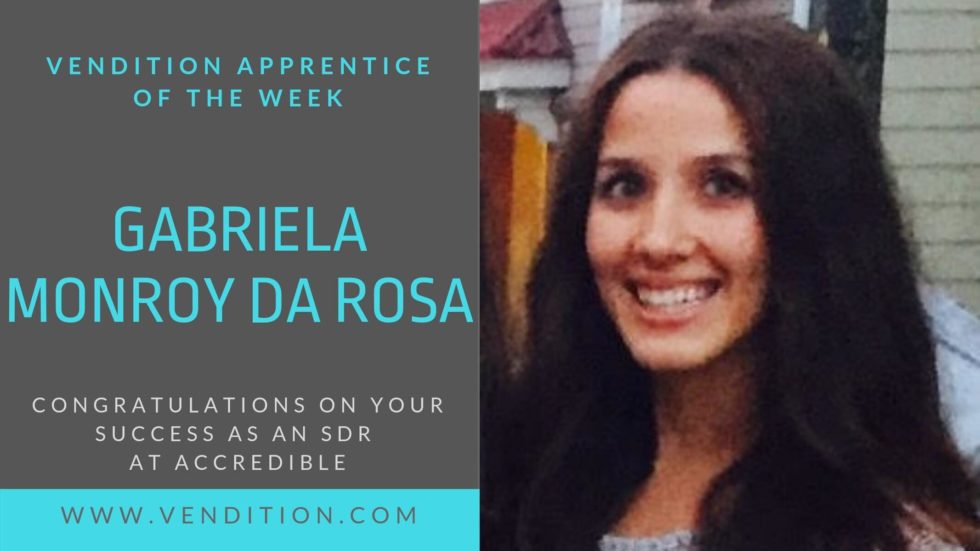 This week, we recognize Gabriela Monroy da Rosa at Accredible as Vendition's Apprentice of the Week.  Gabi graduated from San Francisco State University back in the spring and took some time to figure out the next step in her professional career.  Throughout college, she worked in many different capacities and had different options to consider. Since the start of this year, Gabi has been learning the ropes and hitting quota as she grows into the SDR role.
Read the rest to learn Gabi's Vendition story:
At first, Gabi hadn't considered sales as an option post-grad, solely because it wasn't something she had on her radar as she hustled through school. "I graduated in May and took some time off to travel and to figure out what I wanted to do.  People kept asking me, 'have you thought of sales? I think you'd be really good,'and I didn't even think about it in school—it wasn't on my radar. As I started interviewing, I thought that this could be something really good for me."
When asked why she connected so well with Accredible through the interview process, Gabi notes it was the potential to work with her future coworkers that had her choose this route.  "I get along really well with my coworkers – especially Jen, who helped and advocated for me because she thought my energy would balance well with the rest of the company. Since starting, Jen has been super helpful and gives me awesome advice.  They also hired another person [at the same time], and they thought our personalities are so opposite that we would work well together. So far, they've been right about it — I am more the outgoing extrovert and she's more technical, which is really great because we learn from each other.
"I really enjoy my time working here — it feels worth it.  It's definitely challenging, and carrying quota is new to me, but I like it in a sense where it makes you stay balanced. It's always going to be challenging – but what's really motivating to me is if you hit quota, then you get bonuses, and I'm already at the end of my last week of quota, so I'm even more motivated to be the last one in the office."
From starting out to now, Gabi says it's all about confidence.  "I'm definitely feeling more confident even though I know that I have a lot more to learn—there's always something to learn."
Gabi notes that in her coaching sessions with Ashleigh, she appreciates Ashleigh's expertise and ability to understand where she's coming from.  "Ashleigh gives a lot of good advice. In terms of what I'm going through, when i'm feeling not as confident – she knows how to show value. What I mean is that she's able to make me aware of things that I'm working on that are going to be valuable as I continue to develop.  She helps me in implementing changes for challenges I face, and of course she's always so lovely to talk to."
Top Tips for Future SDRs:
"Leave your expectations at the door and start at the bottom, because no matter how confident you think you are, that's going to be stripped away starting out. You're going to find a new type of confidence you never really had before."
"Don't stress out – try to stay calm because even though it seems like it's going to be a really hectic, fast-paced environment, it doesn't have to be that aggressive.
"Email outreach is key — don't forget to follow up."
Gabi's advice is worth taking to heart.  In her first trial quota period, she more than hit expectations.  The following month she was down to the wire and hit quota again, too.
Keep up the great work, Gabi!  The Vendition team is proud of you in finding your work home.  Continue to bring your energy, your confidence, and your consistency to work, and we know you'll see great things at Accredible.