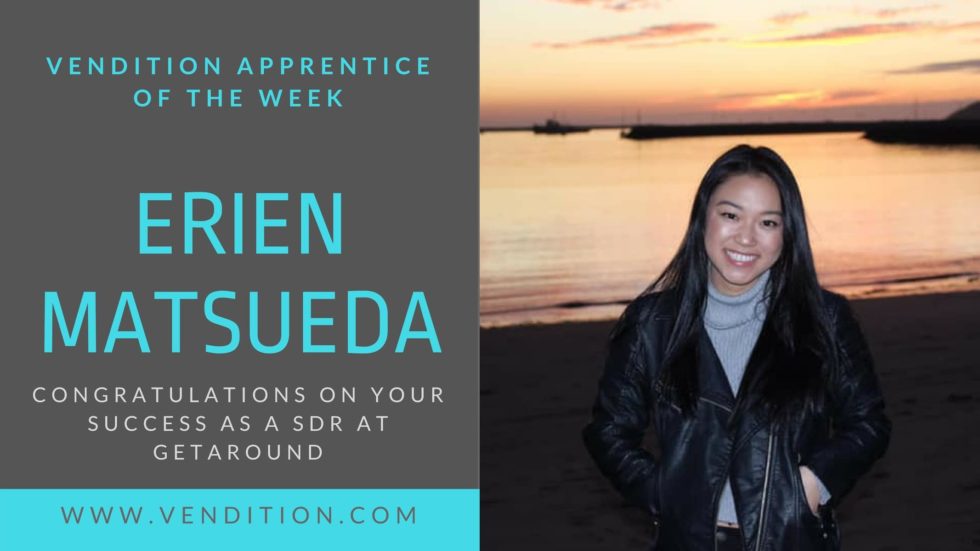 To kick off the New Year, this week we're highlighting Erien Matsueda over at Getaround as Vendition's Apprentice of the week.

Erien graduated from Chico in the spring with a degree in Journalism Public Relations. With this communication-related background, Erien figured sales would be a good direction for her career as a new grad.

Read the rest to learn Erien's Vendition story:

"My friend originally referred me to Vendition. She had been in contact with the team, and she was already an SDR, so she told them that she wasn't looking for a new role but 'hey, I have a friend…''

"People have always said that I was someone who would be good in sales because I can persuade pretty easily. So after college, I was looking for jobs and I thought why not try sales since I have a lot of friends in sales who are seeing a lot of success."

In regards to what exactly Erien wanted in a company, she shares that a strong sense of community with a team-oriented environment was ideally what she was looking for. "Growing up I had always been part of a team–whether that was my soccer team, committees, even in my social group in college–so finding a good culture and team morale was huge for making my decision. I felt like Getaround was a great fit for that exactly. Michelle had known Adam, my manager, for a while and knew he was a great fit for the leadership I was looking for. She said I would do well in this role.

"I am so glad I chose Getaround. I've become friends with my coworkers, and it was really nice to have the other SDRs who came through Vendition work alongside me. It was nice that we all came through the same process, and we can all relate to each other."

Erien says that she's come a long way since starting as an apprentice in August. "Day one, of course, I was super stressed because I had never worked in a strictly sales environment before. I was learning so much in the first couple of days, and now I feel like I know so much more information about sales. I've learned how to pitch better, and I have coworkers who have helped me through it all. I feel like I'm better connected with the company now, too.

"Ashleigh, let's just say she knows her stuff–she's a true sales professional. One time I texted her at 7 o'clock in the evening saying 'Ashleigh, I don't know if you're available right now, but could you help me…' and she did. She's incredible about being hands on, being there when I needed her, and always willing to help me out. I know that one of the SDRs on my team right now, who's already completed her apprenticeship with Vendition, reached out to Ashleigh recently when she needed help. It's just great to know Ashleigh will still help her [and us] out."

Top Tips from Erien for anyone starting as an SDR:
"It is going to be overwhelming in the first couple of weeks, so be really open to trying new things and asking questions because that's what Ashleigh is there for, and that's what your manager is there for."
"Be open to constructive criticism, that's what's going to make you a better SDR."
"Some really simple things have helped me: having a planner, writing down lists and tasks, being really organized, and setting a goal for yourself."

"In my role, I've been calling old leads and opening up new markets with power owners–I've really been grinding and hustling, and I consider that a really big win for myself. I never had any personal knowledge about being an SDR before now, so I was asking questions constantly and I wasn't afraid to do that. You'll never know how good you can be if you don't try new things."

Keep up the great work, Erien! We're proud of the work you've put in, and we're excited to see where it takes you at Getaround.