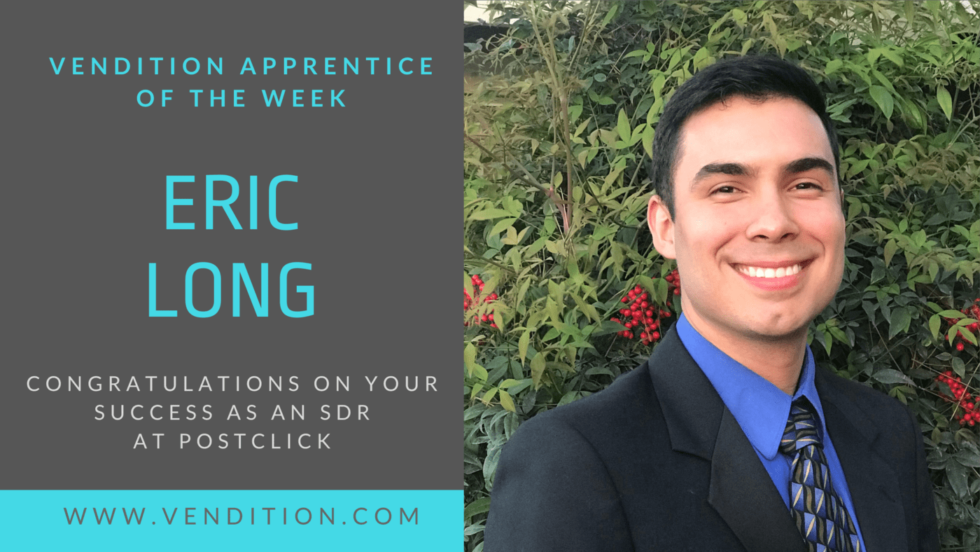 With the right mindset you can transfer sales skills from any industry to the tech space. It's not to say it's an easy transition, but our alumni including this week's Apprentice of the Week have found it extremely rewarding. Eric found a great fit joining the PostClick team, and it turns out he just needed to be in tech sales: in his very first month he led his SDR team for meetings booked!
Eric had been selling cars for several years and thought the transition to tech would be too steep of a learning curve to easily make the switch. He knew he had the foundational traits: he was good at talking to people, he was motivated by the financial reward of selling, and he leaned into the mentality of being in control of his day-to-day. He just didn't know how it would switch from selling cars to selling software. But once he set his sights on tech sales, he landed a role two weeks into his search.
Eric's cousin was integral to showing him he had the ability to transition. "My cousin is the VP of sales for a startup on the east coast and mentioned to me that I should try to get into sales in the tech industry. I thought it would be too hard to pivot, but with Vendition, they streamlined the process for me and I landed a role pretty quickly. They already knew hiring partners, matched us based on mutual interests, and managed the process very smoothly for me. ."
For most people, a hiring deadline of less than a week would be daunting, but not for Eric. "Well, first and foremost, the timeframe PostClick was looking for was really enticing to me. I remember thinking about it and feeling determined this was the space I was interested in and having conviction I will land this role."
He's grateful he went for it because as soon as he met and interviewed with his future manager at Postclick, he knew that this was the individual he wanted guiding him as he transitioned to tech. Of course, it didn't slow down from there. "In a matter of two and a half weeks, I was already on the phones. On my third day calling, I booked a meeting!"
To Eric's credit, he was able to see immediate success due to his own mentality of constant improvement. On a weekly basis, he'd meet with his Vendition Coach to go over the previous week. "I'd go in with this mindset of 'I don't ever want to come to him the next time we meet with a worse week than the week before." Eric said his coach pushed him with motivation to get through cold call nerves, going through exercises, and giving tips and feedback to improve.
Eric's advice to SDRs starting out:
Don't get in your own head about the people you're speaking with. "Titles make you want to put a CMO or VP on a pedestal, but remind yourself they're another human, too"
Avoid overwhelming yourself the first day on the job. "I remember I was online until 9pm my first day trying to study. Looking back, taking everything in over the course of the ramping period is more important than trying to cram everything day one."
Have a mindset for constant improvement. If you can come in the following week doing slightly better in one metric, or process, or skill – you will see your performance go a long way!