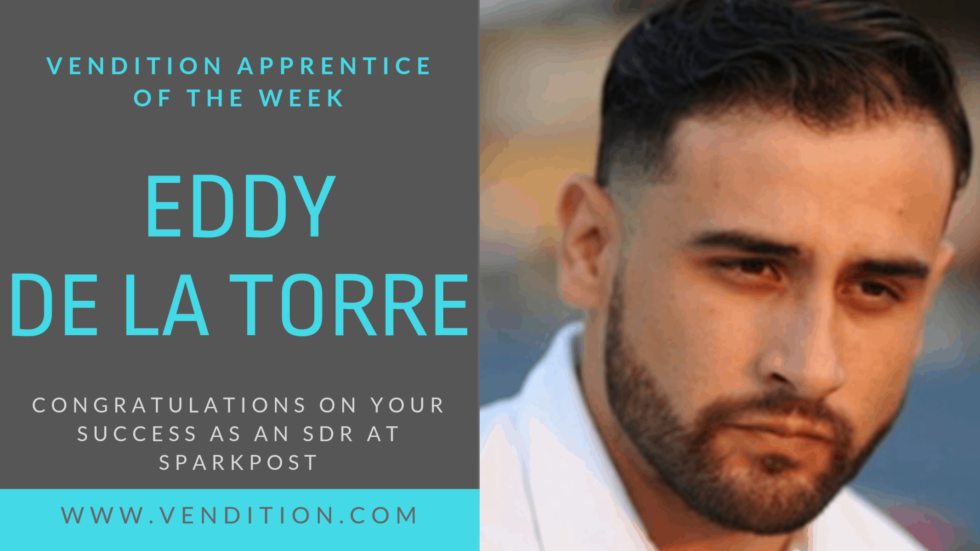 This week, we're highlighting Eddy De La Torre at SparkPost as Vendition's Apprentice of the Week.  Since May of last year, Eddy's been bringing his coachable attitude and motivation to work each day and moved up from the SDR role, to SDR Team Lead, and now Account Executive.
Read the rest to learn Brian's Vendition story:
"Originally I was in jewelry sales, and my plan was to coach football.  I decided coaching wasn't the path and I figured I've always been competitive, so I wanted something as competitive as a sport.  I felt like sales worked best with this mentality. I also felt like selling something was what I needed to continue doing."
Having known he wanted to stay in the competitive space of sales, Eddy shares that tech seemed like the best next step in his career. "I was born and raised in the Bay Area, and I knew that I didn't need to go anywhere further, [tech sales opportunities] are right in my backyard.
"I ended up at Vendition, because I was looking for a change.  Mainly I was looking for an industry with real opportunity growth.  That was my main focus. In my search, I was struggling with how to get my foot in the door with these tech companies, and one of my friends who's been in tech for over five years told me a couple of her friends went through the Sales Bootcamp.  I took the weeklong course, and I started working with Hailey.  She heard me out, and she set up some interviews with companies she thought I would connect well with. One of [those interviews] was with Chris Flores. Things went great, and of course, here I am."
As to why he connected so well with Chris?  First and foremost, Eddy says that it didn't feel like an interview.  "Right off the bat, Chris and I had a genuine conversation—it never felt like he was interviewing me. He was super transparent, as was I, and that was what really set it off for me. Right away I felt super comfortable. Chris set the expectation, and I couldn't ask for a better leader to work under. 
"Everyone has a story, I had a story, and you just need someone to listen to it.  That's exactly what Chris did."
Eddy shares that it wasn't easy right off the bat, and he had to work to overcome the learning curve of making the transition into tech sales. "The first few months were challenging because everything is new—you have to learn new things, you have to put yourself in an uncomfortable position. I've found that when I'm learning something brand new, if I continue to apply the same skills I was taught in previous learning experiences to these new concepts, it'll help.  Going back to the basics helped me transition to the position that I'm in today. Initially it's hard, but once you get it, you're good."
In regards to what helped him with his learning curve, Eddy says asking questions is key. "I was introduced to my coach Ashleigh as soon as I started with SparkPost, and we had a lot of conversations.  I've found that I'm one of those guys who tries every thinkable way to learn something, but once I figure out that I don't know what to do, I ask questions. She helped me with being calm and not letting my emotions overwhelm my ability to perform. Just knowing that it's a process, she would say 'hey things are going to happen, so you gotta keep moving forward.' On the process side, she helped me with creating working documents for objection handling that I still use today."
Tips for future SDRs:
"Focus on time management and spread out your day. It's very easy to call 60 people very quickly, but it's best if you stick to a plan and prospect every single day."
"Anything you get inbound is great, but the things you can source for yourself will only make you better at what you do."
"Keep your head down and keep moving forward—you're not always going to get a bite right away."
Keep up your hustle and drive, Eddy!  We're so proud of you and the success you've seen thus far as an SDR and Team Lead.  There's no doubt you'll continue to take on bigger challenges now as an Account Executive and rise to the occasion each time.