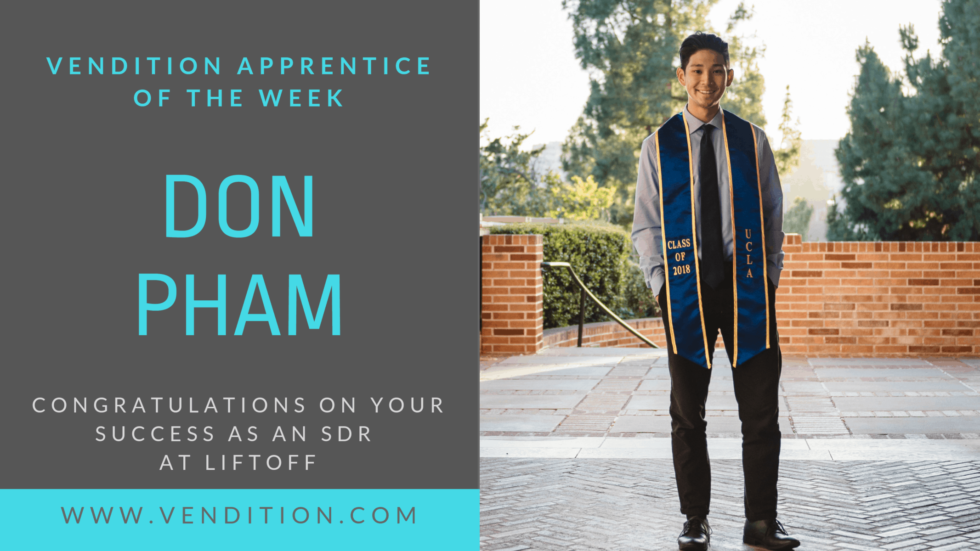 This week we recognize Don Pham at Liftoff as Vendition's Apprentice of the Week. Don graduated from UCLA in the spring of 2018 and for the year following, he hustled as a freelance photographer and developer  He got in touch with the Vendition team this past spring when he decided it was time to test out his technical skills in a sales role.
Read the rest to learn Don's story:
"I sort of fell into sales, more so out of necessity. I was sick of freelance hustle, mostly sick of being my own boss– it was only cool on paper. Initially I wanted to move into a developer role, but I was humbled by my job search pretty early on. I told myself, 'if you really want to do this, sit down and do a bootcamp for a few months to build on existing developer skills, or pivot.'  So I pivoted. On the basis of interpersonal communication alone, I knew I wanted to be a part of tech sales and build on my softer core skills.
Don shares that as the first SDR hire with Liftoff, he really only knew about Liftoff's product going into the interview process.  "Well Kristin told me, 'you're the first person we're connecting their team with, but I know you'll kill it.' What I quickly figured out was that the culture at Liftoff was just next level.  Being my first real job, I wasn't too familiar with the corporate life and work outside of what I was experiencing at Liftoff. But it's been an absolute pleasure, from management to coworkers, I've felt so supported.  A big example of that: towards the end of my apprenticeship, everyone was telling me I needed to negotiate my offer. By the time I was handed my full time offer, I realized I didn't have to do that because my director [negotiated] for me."
Starting out wasn't easy, because Don recognized he took on a unique challenge, but the support he received from his team made the transition easier.  "Something else that was terrifying was being the only SDR, or I should say our only SDR in America. Generally SDRs don't get promoted without an AE post opening, but my director took care of that for me, as well.  He talked to HR and laid out a ladder for this role, clarifying that we want to expand the team. So from this role I'll be going to senior SDR, to team lead, and it was just really cool hearing all of this. Having these clear expectations is stressful, but it's also really motivating."
Don shares that his perspective shifted on the role itself midway through his apprenticeship.  "It's fulfilling work. Prior to starting at Liftoff, I thought SDR positions were mostly about making AEs' lives easier and helping with booking meetings. It took getting established in the role, getting close to my coworkers,  and of course this lends back to my director as well, that my mindset shifted. I had a presentation for [my director] about what I'm doing and what I felt my role should be. I told him something like 'my belief is that the SDR role is to make the AEs' lives easier.'  He told me that I had that half-right. He said, 'you are the lifeline of the sales org, the pipeline generator. You are responsible for ensuring that everyone else has optimal buckets.' Shifting my lens in that manner really motivated me and made me want to qualify their quotas."
Over the course of the apprenticeship, to now as a fully ramped up SDR, Don says, "My work fulfillment has changed since starting as well.  I've been able to build a rapport with my coworkers and I feel that we work cohesively. Another great thing: health insurance. Having a salary is really nice. I can help my parents with their mortgage, and my quality of life has gone up significantly."
Don credits his coaching sessions with Sam in helping him to implement small changes in his process each week.  "In my particular case, it's a bit different. A lot of these tech companies have a more solidified SDR team, and I was kind of on an island because my peers here have similar responsibilities to each other. Having to navigate by myself as the only SDR at Liftoff, it was helpful having someone there like Sam, who was some sort of solace. It doesn't hurt that he was an SDR team lead himself, and then SDR manager, too. I'd have agendas written out for our syncs and I'd show him in the beginning of the conversation.  Then he would just say, 'Okay, let's talk', and he'd go into thorough depth with his guidance and tips. I'd follow up, take his tips and put them in my workflow, and for the next sync he would say, 'You implemented that, let's cover something new.'"
"Just having the moral support when I needed it, as well as the professional guidance was helpful. Sam's a very funny guy, and I would look forward to our syncs especially after getting off an aggravating call with a client.  I reciprocated his energy."
Don's tips for SDRs starting out:
"I don't think I'm in a position to give tips since I'm still learning so much.  But I do think coming into the industry there are three pillars to learn: company, product, industry. I feel like i'm a product and company expert at this point, but the industry is ever changing.  There are always new apps, with new niches and new audiences. My biggest tip: remain a student. Once you're in a role for a few months, you solidify in your ways and you become a lot more rigid with your process, so try to remain open to everything."
"Also, always put in the work. I've learned so many sales cliches since starting, but they're true! Sales is a numbers game and there are only so many things in your immediate control. The leads that are inbound are out of your control. The only thing in your control is your response times and how much outreach you're doing in outbound. That's about it.  You'll have weeks that you're up and weeks that you're down, as long as every week you're reporting you're hitting your activities, you're doing the best you can. It's easy to get bogged down, so do what you need to do in order to avoid being jaded."
Don's tips are worth noting, he's seen various wins since starting out.  "So I first started in our Q2. Of course, the SDR focuses on new business and we have three new business AEs with pretty aggressive quotas that are constantly ramping up. With me coming in when I did, I  helped them close out Q2. More specifically, I helped two of them with booked meetings to help them hit their individual quotas. 
"Outside of quota responsibilities, I've become a bit of an Outreach.io expert. I am the Outreach.io admin so I handle all troubleshooting and tips.  No one at Liftoff was really using Outreach.io before I came on–that was a goal with the SDR role, to implement better usage of it. It's cool to see that I've been able to live up to that expectation.
Keep up your learning mentality, Don!  We're happy you found a home in Liftoff, and we're sure there'll be even more wins coming your way as you continue to grow in this role.