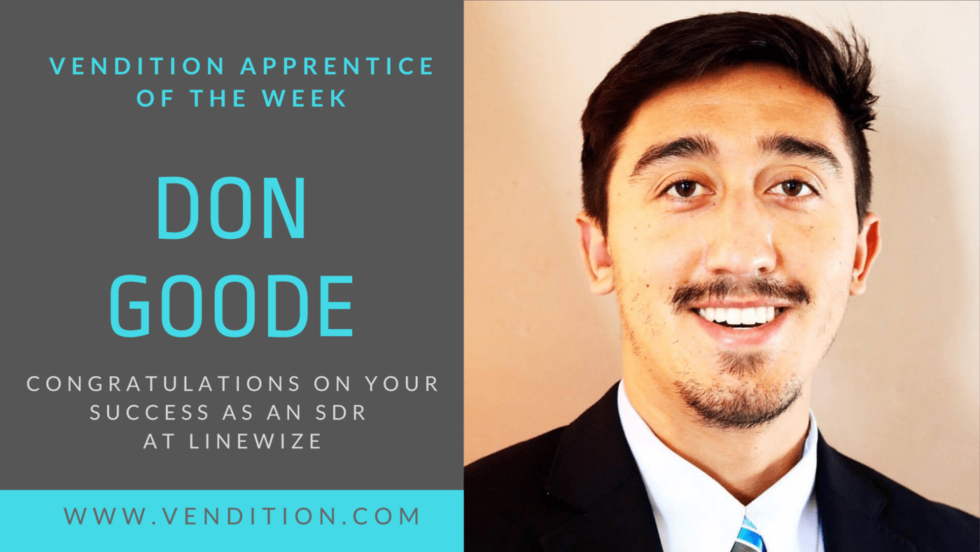 This week, we nominate Don Goode at Linewize as Vendition's Apprentice of the Week.  Prior to joining the Apprenticeship program, Don knew he had both a solid sales foundation and an entrepreneurial spirit, having worked in a few different industries in sales and leading a league in e-sports before pivoting into tech.  He thought he knew all the soft skills required to be successful in sales coming into his apprenticeship, but ultimately it was a humbling experience to figure out how to book 8-10 meetings a week consistently…  Now he's in level 3 of his SDR position after 6 months at Linewize! 
Read on to hear his Vendition story:
Don says that being raised by a "big business guy," opened him up to the idea of pursuing sales for his career.  He was drawn to going the Vendition Apprenticeship route to get his hands dirty. "I wanted to learn more through integration and experience. And I think the best way to do that is by doing."
Don was initially drawn to Linewize because he liked the dynamics of cyber safety.  Through his interview process, he learned that the internet was much more vast and was impressed by his mentors: "I found them to be extremely well-versed in the space.  The way they presented themselves, you could tell they were in my shoes ten years ago."  Don could tell Adam and Ross were making a door accessible to him to really build his career in this cyber safety space.  
Don says that starting out as an Apprentice at Linewize, he was very excited and confident to kick things off, but there was a steep learning curve.  "I found that I didn't really know what I was doing and I quickly became humbled.  I learned like I wasn't as good at sales as I thought it was, but I knew that I could go to Sam to figure out what really were the underlying concerns.  He made it more personable, making me feel like I had a best friend there with me. It made a huge difference to be able to have someone to go to and someone to articulate very focused feedback."
Reflecting since Day 1, Don says the thing that comes to mind is how he's grown and become more confident as an SDR. "I'm prepared for whatever's thrown at me and can call any prospect with zero hesitation. Obviously I'm still learning, but I know more sales strategies, and I'm making headway to becoming an account executive."
In his six months at Linewize, Don says that he's been able to prospect into more "enterprise-level equivalent" school districts, have a beer with his CEO who's based in Australia, and move up quickly along his development track. Not bad, Don!
Some final thoughts from Don for SDRs starting out:
Ask a lot of questions. "

Ask a lot of questions in the beginning to a mentor or manager, even if you think it annoys them because that's gonna get you past the initial phase a lot faster.  I went from barely being able to do a sales call to crushing it (IMO).  Ask the people around you, 'What should I have done? What do you think?'" 

Listen more than you talk.

 If you're asking questions, you need to listen to what you hear in return. 

Be human with your outreach. 

When it comes to cold calling,

Sam coached Don that it's okay to level with people, which Don says has helped him immensely. "'Hey, can I level with you? It seems like now's a bad time.' And then you just break the script, find out if it's either bad timing or they genuinely aren't interested in having a conversation with you."