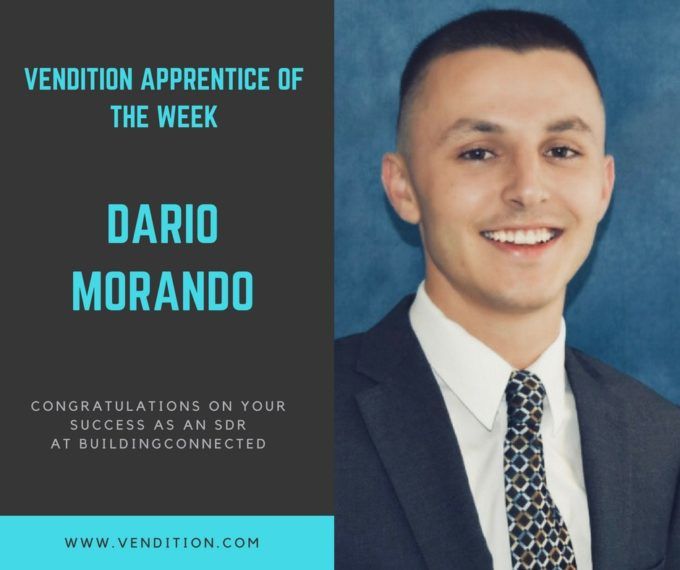 This week, we are highlighting Dario Morando as Vendition's Apprentice of The Week! We are so proud of his hard work at BuildingConnected. Dario broke the record for fastest opportunity created because he sent a lead over to the team and the contract was signed with that client before Dario's first day on the job. Additionally, since his start as an Apprentice in October, he's already been promoted from SDR to Team Lead Business Development, and two months ago he moved up to Junior Account Executive. Talk about crushing it!
Having so many of his family members in sales, Dario always knew he wanted to work in the sales industry but never had the opportunity to dive into sales until college. While interviewing for startups in the Bay Area, nothing felt like the right fit for him. He decided to go through Vendition after hearing about it from a friend.
Check out our interview with Dario Morando to learn his story:
"When the time came to start looking for jobs, it was nice to know what I wanted to do because a lot of my friends were still trying to figure out their career path. I always had the end goal of having a closing role, and after my first sales internship it peaked my interest even more. I heard about Vendition through a friend who had a connection with the Relationship Manager, and I decided to see how they would be able to help me land a tech sales job. BuildingConnected was definitely one of the best companies they introduced me to, and I had a great interview process with my [now] current manager and the VP of Sales.
"My apprenticeship coach was a huge resource for me throughout the entire process. Prior to me starting, BuildingConnected did not have an SDR team, and I didn't have anyone besides my manager to go to when handling objections from potential clients or addressing my struggles when making calls. It was great to have the ability to have a weekly call to check in, whether it would be a reset button for the next week or asking about specific ways to overcome obstacles. I was able to practice introduction and framing calls depending on the situation, as well as mock calls and role plays. One of the most important things I learned was that the best performing SDRs are good at both cold calling and emailing–it's impossible to fully succeed being a "one-trick pony." I made sure to get through training and practice for both, which really helped my progress.
Here are some tips from Dario for future SDRs:
"The success of an SDR is built the day before. You never want to be looking for accounts during the day when the time can be spent making calls instead. I usually take the last hour of my day to build out a list and prospect before the next day to come prepared."
"Don't overthink. Just focus on making calls. When I come into the office every day, I grab a cup of coffee and immediately starting calling. Get into the groove when your mind is still fresh."
"Make sure you have an end goal of what you want to get out of the role, because not every SDR wants to go into a closing role. If the company sets expectations and you are honest about what you want to achieve, you will succeed."
Closing thoughts:
"Vendition really set me up for success in the tech sales industry. Besides my own personal drive, BuildingConnected was able to lay out a good path for me and other fellow SDRs, showing us that they are willing to promote if we work hard enough. I recommend Vendition's program to anyone interested in a career in tech sales."