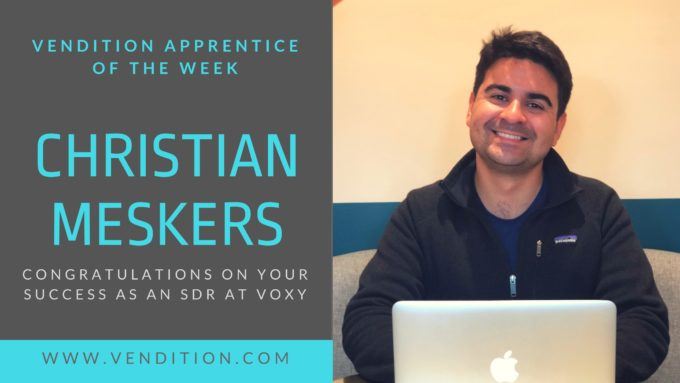 We recently caught up with this week's Vendition Apprentice of the Week, Christian Meskers.  Christian has been working at Voxy since May and has seen so much success in the months since.
Originally, Christian taught English in Spain as his first job post-grad.  He had been interviewing for a variety of jobs—SDR roles, marketing positions, and media—and nothing was happening.  A friend from study abroad encouraged him to come join him in Spain and teach. In five days he was accepted into that program, so he went abroad to teach English to middle and high school students for a year.
Little did he know that his bilingual experience would be so vital to his job hunt down the road.  Check out our chat with Christian to learn the rest of his story with Vendition:
"I was in advertising for eight months after teaching abroad, and I decided it wasn't lucrative or the right industry for me.  I turned 25 and decided that would be my last day, so I quit my job. Shortly after, I was on LinkedIn, and I found [Vendition], so I applied.  I didn't really understand the whole process at the outset, but my Relationship Manager walked me through it and first connected me with Voxy… and I love it, and I feel so situated now.
"My Relationship Manager helped prepare me for the interview process by reviewing some sales methodologies with me, like SPIN.  That ended up being super helpful for me because when the new CRO came on earlier in the year at Voxy, he started using SPIN exclusively. I was able to come into my role with some of it already started."
Christian felt like it was exactly the right fit for his next step for a few reasons:
"Funny enough, I chose Voxy because it was the first company Vendition introduced me to.  Voxy had just opened up their first SDR program, and I was the second person hired for the team.  It was a unique scenario, they were looking for someone who spoke English and Spanish—pretty much everyone at Voxy has taught English abroad—so it felt like the right life and moral placement for me.  I didn't have to look at any other companies.
"It really was the perfect fit for me, I reach out to Europe and all of South America. Half the time I'm doing discovery calls in Spanish because half of my prospecting is for South American companies.  Just by keeping it very conversational, I've opened up a few in opportunities in Colombia and with McDonalds in Japan and Switzerland. I've done cold calls at night [due to time zone differences] and I've realized I didn't really know much about how this job worked going into this process.  I've learned so much by taking on extra calls.
"At first it was just so new to me, I had to learn the ins and outs, and it's been going well.  I'm going slowly, and I'm slowly booking a few more meetings each month—some really great, quality opportunities. This month, I've been working really closely with my manager and that's returned a lot of quality opportunities—we're working on maxing out more results.  I'll have a whole portfolio once month five is over.
In regards to his coaching and training:
"Discovery call practice has been key. Having a script for both english and Spanish, for me, helps me to continue working on my pitch and keep working on foundations.  Having a personal script makes me feel like I really know what I have to say. I never run out of words or feel lost. I've been staying organized, too—having reminders in gmail, using SalesLoft, being able to navigate helps me to reflect weekly on what's working."
"One of my goals was to work on my Spanish in a professional setting. Recently, I scheduled [and rescheduled] a call four times throughout a month for a multinational hotel corporation in South America—my contact there didn't even know how to use Skype, which was a major roadblock.  Going into it, I thought this deal would only come out to $20k, but it turned into a $268k deal! It's still being negotiated but that was a huge accomplishment for me." No kidding!
Top Tips from Christian for future SDRs:
"Coming from the perspective of someone who taught, constructive criticism is essential."
"The most important thing is to be receptive and be ready to ask questions even if they sound stupid"
"Be open to resources that are around you—there's a ton of help out there, you can really get the hang of it and start performing if you take advantage of that."
"Even if it means coming in early or staying late, volunteer to take calls for inconvenient times.  That's been so helpful for my development here."
"I'm really grateful to have found Vendition.  It's been a huge relief to go from being so stressed out to feeling financially secure and having people invest in me. The Vendition team did a great job, it fit the first time."
We're so glad you came our way, Christian!  There's no doubt you'll continue to crush it at Voxy, and we can't wait to see what's next for you there.