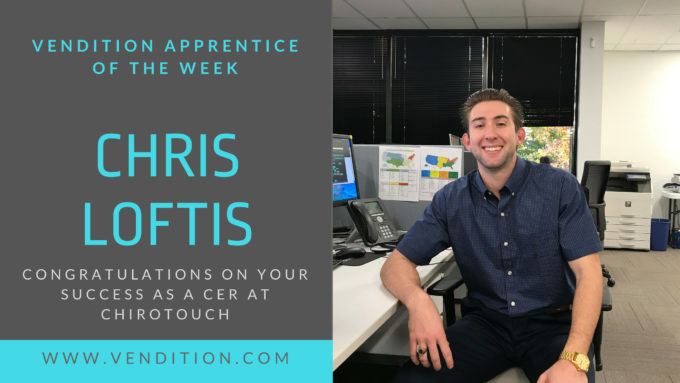 This week, Chris Loftis at ChiroTouch has been nominated as Vendition's Apprentice of the Week.  We first met Chris in September, and since he's started at ChiroTouch in October, Chris has been bringing it with his high energy and willingness to put in the work.
Chris had graduated from San Diego State University in the spring, and he had stayed in his job he had during school until he found the right opportunity.  It wasn't until September that he came in contact with Vendition, where he ran into James and Ashley in San Diego.
Read the rest to learn Chris's story:
"I've always known that I wanted to be in sales.  My dad's a sales guy, and I've seen him do really well in his career.  I've always wanted to fill that role, because to me the sky's the limit with what you can accomplish.
"I had graduated from SDSU in the spring, and I was just working my college job as a barback while I was figuring out the right sales path for me. Within a few weeks of meeting Vendition, I was excited about getting started with the process."
Chris shares that he connected with ChiroTouch right away.  "I saw an opportunity as far as software goes, and then everybody was super cool that I interviewed with.  I felt like I would fit in at ChiroTouch. Working with Hailey was really helpful with making that decision, too.
"The first few weeks were way more steady, I got through the easier inbound leads and I was booking demonstrations off the bat.  It's an easier process with the inbound leads, so transitioning into outbound has been a more difficult and challenging process. That said, it's more gradual, and now it's really 'my' work, these are people I've personally build rapport with.  It's "for sure" more satisfying moving into this role. I feel like if you can do phone sales, then you can do any sort of sales and that's what pumps me up. I'm excited to see what comes in the future."
Working with Ashleigh has helped Chris to feel more confident about being himself over the phone.  "Ashleigh's given me a lot of tips about being myself—how to make phone calls, different things to say, maybe not starting out with a straight up joke but something to break the ice.  For example, she gave me some advice recently like 'You should ask [prospects] if they've had anyone come in with back injuries because of Christmas trees shopping.'"
Chris shares some tips for seeing success in the role:
"Go in with a positive attitude, and set goals. With those goals, be tenacious but don't stress yourself going into it."
"Learn from others.  I learned from Vendition going into this and I continue to learn from coworkers around me.
Chris's manager Kevin Smith highlights Chris's tenacity when it comes to putting in the work:  "Chris has been doing an amazing job! Every day he has the most outbound calls, and this month he is tied for #1 in most demos booked among our CER L1 team! This is well deserved, great job Chris!"
Keep up the great work, Chris!  We can't wait to see what more is in store for you at ChiroTouch!