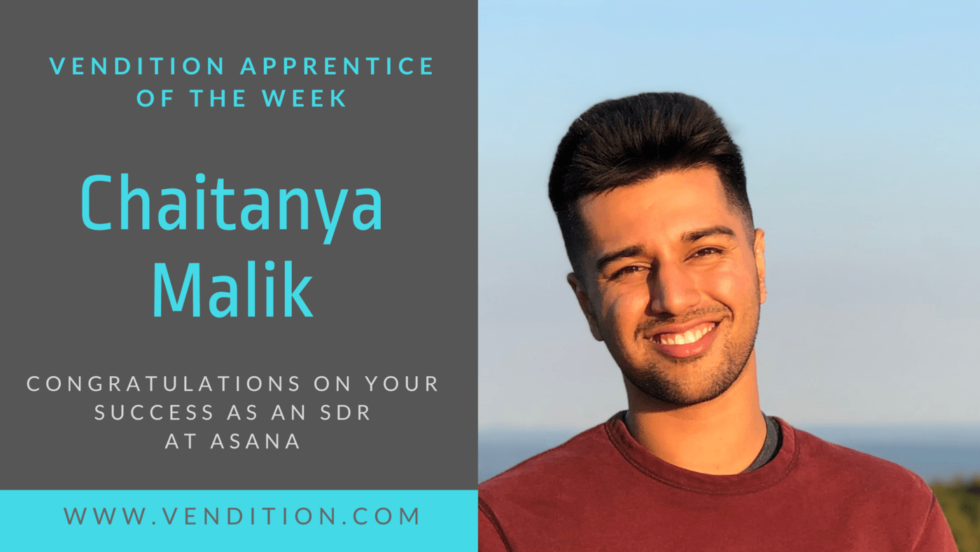 This week's Apprentice of the Week, Chaitanya Malik, first had an interest in software sales when he was a Project Management Intern at Zappos and used employee engagement SaaS. After graduating in the Spring of 2020, like many of our Candidates, he was faced with the challenge of finding a job amidst the pandemic. He applied to multiple SDR jobs in January 2021, including a SDR position at Asana, but had no luck. 
He ran into Asana again when going through Vendition's SDR Apprenticeship selection and matching process and did not let that opportunity go. Knowing that he wanted to be in tech sales, Chaitanya was on the lookout for a product that would energize him. "Ultimately, I chose Asana because their product is one I can really get behind and believe in. I researched some other SaaS companies but had a hard time finding one that I could be passionate about until Asana. Having a product I was not only familiar with, but I could see the tangible value in, was something very important to me." In March 2021, he landed his role at Asana and exceeded expectations in his first 3 months!
Being adaptable is an important skill that has contributed to Chaitanya's success. During his first 3 months at Asana, the organization had gone through some shifts. "From the time I started until now, I have had new managers and new coworkers. But at the core, the best part for me is the team. People are really collaborative and enjoy helping each other – everyone is so friendly! That's helped me a lot through the changes in the past few months." 
Chaitanya had some expectations for the Vendition Apprenticeship, but nothing compared to how reality played out over the course of the 12 week program. "My expectations were a bit lower than reality. I was hoping to get a full time offer, to learn, and become an active member of the team. In the past 2 ½ months, I've had the chance to build out sequences for getting prospects and starting today, I'm mentoring a new hire from scratch to take over my role in a few weeks! I've been given a lot of responsibility and have had the chance to really prove myself. I'm not just punching in and punching out, I'm able to have this mentorship and leadership capacity in such a short amount of time." 
When asked for his top tips to aspiring and new SDRs, Chaitanya noted that resilience and hard work are key. "With the SDR role, you have to put in the time. There are no shortcuts since your inputs equal your outputs. Even if that means working 10 hour days occasionally because it ultimately does pay off. Another thing I've noticed with my experience is how important it is to stay curious. I am still starting out on this journey of tech sales and I'm so early on, I want to learn everything I can. When it comes to rejection, I know this is a cliche but every 'no' you get, you're getting close to a 'yes.' I think that speaks very well to the SDR role." 
Chaitanya, we are so impressed with your journey thus far and look forward to watching you climb up the sales ladder!