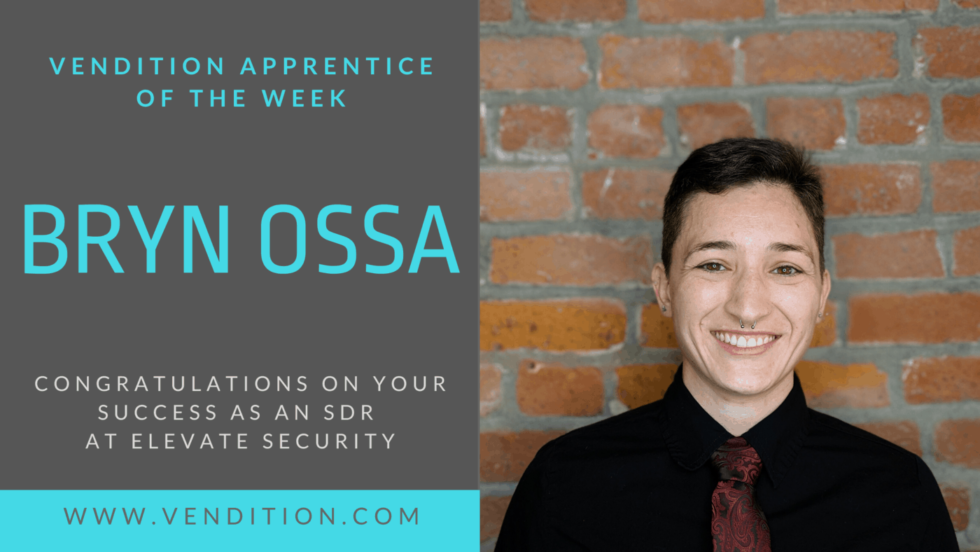 This week, we recognize Bryn Ossa at Elevate Security as Vendition's Apprentice of the Week.  Coming from an automotive background, Bryn knew they wanted to pursue sales after finding they enjoyed the customer-facing aspects of that role the most.  Since July of last year, Bryn has embraced their love of learning the cyber security industry and taken on a multiple-hats SDR role at Elevate Security.
Read the rest to learn their Vendition story:
"So at my last job, I was working in the automotive industry as a customer service rep, which also meant I was still doing direct sales for services. I left that job for many different reasons, but one of the things that I thought I'd hate going into that particular role was interacting with people. Ultimately, I found that I loved it—I loved interacting with the customers."
Bryn knew they wanted something still customer facing when it came time to pivot.  "I wanted to be able to go out into the world, I had never been in a job that was office-based before, and I figured sales gave me the best of both worlds.  I'm not necessarily money driven, but I am numbers driven—money is an added perk, of course. I liked that with a role like this I wouldn't be stuck at a desk all day, given I'd have plenty of opportunities to interact with other people and grow those relationships."
As for why they pursued sales over another customer service role, Bryn says, "The reason I went into sales versus customer service was that I knew I wasn't the best suited to help people when they are angry about outside issues.  If I call someone as an SDR and they're angry at me for calling, that's different—I can handle that no issue."
Bryn shares that they knew they wanted to go into tech sales in particular due to an interest in learning the space.  "I wanted to do tech in particular because my fiancé is a software engineer. He would tell me about his day and I wouldn't understand any of it. I figured if I also worked in the tech space," Bryn laughs, "I would learn through osmosis." 
Bryn says that they were interviewing with a few companies when they realized Elevate Security was the right one for them. "I was interviewing with [another company] on a Thursday or Friday, and then I interviewed with Elevate the following Monday. The interview went well with the other company, especially with my previous experience, but I felt like I was going to be one on a team rather than being a key driver. I wanted to make sure that I had an impact wherever I landed.  When I had my phone interview with the Head of Sales at Elevate, we had a half hour interview scheduled, it went for an hour and fifteen minutes. We talked about so many things, it was super comfortable. When I had a second interview with a second rep, we also had a half hour call scheduled, and ten minutes in she said, 'I have no more questions, I love you for this role.' After that, I asked her a few more questions but basically it allowed me to feel really comfortable going into the onsite.  I'm gender fluid, and I never felt self conscious once showing my nose ring I normally hide for interviews or dressing in a way that made me comfortable. 
The onsite itself went really well.  Bryn credits the culture Elevate Security has been able to cultivate. "I was blown away by how many women there were, how genuine they all were, and how considerate they were, as well.  At the lunch during my interview, someone would talk and everyone would listen. I always felt super comfortable, and I left the interview feeling really good."
But there were some unexpected bumps along the way. "The next day Gabriella called me and told me that because an AE role became vacant the same day, Elevate had to close hiring for the SDR position because they needed to fill the AE position first.  I was bummed."
Bryn interviewed on a Monday, and thank you cards they had sent out immediately afterward arrived on Wednesday. "Elevate got the thank you cards I sent out after my interview. I got a call from [who is now] my boss, essentially he said, 'we screwed up, and we're opening the role for you only if you want it.'"
"Starting out as an apprentice, it was a lot of transferring what I knew about the SDR role into real life.  A lot of that was actually very different because I've found working at a security company is very different than working at a company where people sell to other sales people. Finding the balance between expectation and reality, and what I should actually be doing within my role, was a big learning curve.  Because Elevate is a small company—we were still figuring out what our exact ICP was—I got to be part of that growth process. By December I felt comfortable knowing what I feel I know now. 
"During that time, I was helping my boss hire AEs in other territories, figuring out the ICP, and helping figure out processes. I'm grateful because I feel it gives you a better appreciation for what everyone else is doing when you're wearing more hats starting out.  Similarly, I feel much more comfortable now that I understand what the other departments do."
Bryn shares that their biggest challenge starting out was how to attack cold calling. "The biggest hurdle for me was cold calling—I knew it was part of the gig, but I have never liked talking on the phone.  I knew it was par for the course and something I would have to get done. 
I wasn't worried about the written aspect of my role, because I've always been a fan of writing, so email and LinkedIn messaging was really enjoyable.  Getting over that initial fear of the phone was a big one but with that came a change that I never thought was going to be possible: I basically have cut off coffee.  I switched entirely to tea. I found that especially if I had a cup of coffee before a day of cold calling (based on my sequence), I would get anxious. So for a while I was drinking coffee on the days I didn't have calls and on weekends, but now I'm off for the most part."
Bryn credits being thrown into the process with helping build confidence in the role. "I think the confidence goes along with it: less than a month in, I got sent to BSides, which is a conference in Vegas.  I was going to be doing elevator pitch for three days straight, all day, and bear in mind I had been [at Elevate Security] three weeks at this point. It was a huge crash course on how to pitch, figuring out who we're selling to, and more all at once.  Because of that experience, I started going to a lot more events to get more practice on talking the talk and walking the walk since the security community is very tight knit."
"When I was still trying to get used to cold calling, and when I recognized that I was putting them off until the end of the day, one of the thing Sam said that I tweaked to suit me was, 'whenever you have a minute, just make a call." I took that advice and I would do it in batches.  Let's say I would have a meeting in 30 minutes, I would take his advice and get through a batch. I found that when I would set time limits for myself, I'd be less anxious and then avoid not wanting to have to [dial down] after meetings."
Bryn says that Sam helped a lot with helping to tweak their own process.  "I had a lot of ideas but I wasn't sure of how to implement them, and he would really just help me adjust.   He was super helpful on one-offs."
Bryn's Tips for SDRs starting out:
"Don't believe everything other sales folks say.  That's not to say it's not good advice—of course it can be—but knowing your industry and who your company is selling to is more important than just [using advice for] making more dials. For security, you show up to events and that will be more successful than any [tip for more dials]."
"Follow influential sales folks and get a mentor so you can work to understand your role and your industry.  Sales and the SDR role is not universal across all companies. Other sales folks only know the industries they work with—you have to filter through to find the right resourceful people for you."
Bryn's advice is worth taking to heart.  They've been able to experience some small and big wins during their tenure thus far at Elevate Security. "One of the things I've preached ever since I started in sales was relationship building. I started implementing that early on by going to meetings and conferences.  One of the companies we're currently having a conversation with, their DM has become a personal friend of mine and we even had lunch before shelter in place went into effect. Just from meeting people and reaching out, I've had some solid relationships start with DMs at pretty big security companies."
Bryn has also been able to take on more challenges working with their AEs.  "I tag teamed a couple cool opportunities with some AEs, and recently we were able to get a meeting with a fairly large financial institution.  Being able to see those opportunities unfold has been really validating. 
And on an even lighter note, Bryn has used their interests outside of the professional sphere to bring in some opportunities at Elevate, as well.  "One of the meetups I had gone to was one of the first times I had gone to an event with my boss. He had tried to get conversations going with a guy from [this particular company] and at the event I struck up a conversation with that same guy about his cowboy boot.  We started talking for a half hour about security, what company I work for…and his cowboy boots. The next day my boss told me, "I tried to talk to him and you just show up talking about cowboy boots…' It was funny." 
We're so happy you've found a great environment with Elevate Security and the security industry as a whole.  Here at Vendition, we're excited to see what more is in store for you, Bryn!