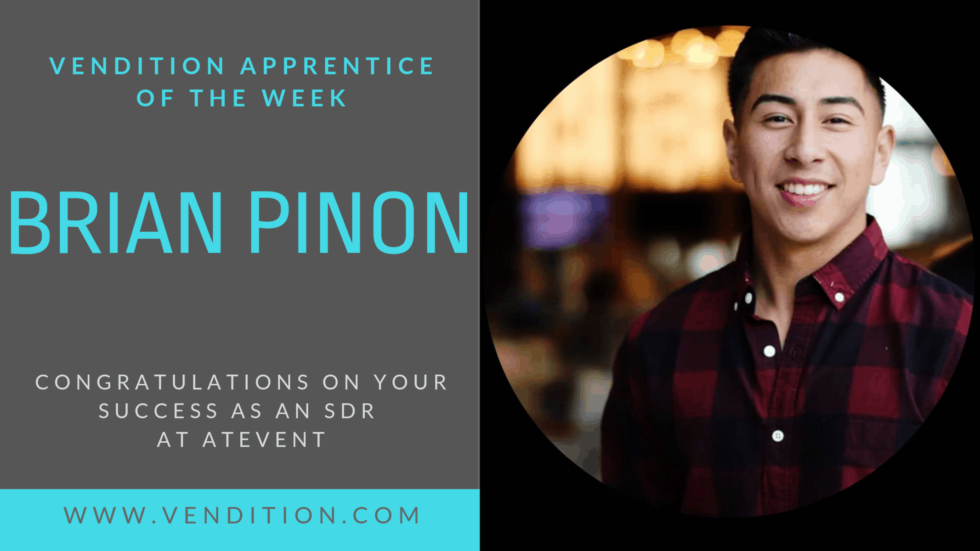 This week, we're highlighting Brian Pinon at atEvent as Vendition's Apprentice of the Week. Since February, Brian has embraced being the sole SDR on his team by building the sales cycle from scratch, constantly hitting quota, and being able to present atEvent at trade shows throughout the country.
Read the rest to learn Brian's Vendition story:
In regards to his motivation to work with the Vendition team and pursue the next step in his career at atEvent, "I was working in my family business when I realized a year in that being able to build genuine rapport with customers drew me to sales. I was also able to realize that I needed to move forward and explore more options. Being in the men's soccer program [at my university], I figured that my competitive mentality would help me in a tech sales role."
Brian also credits his experience at the family business for why working with the atEvent team would be a mutual fit. "I think that coming from the family business, [the team] realized that I was very family-oriented and a team player. I'm able to wear multiple hats and adjust to their early stage startup since I've had similar experiences at a family-sized company. Having a family business can translate to developing your own pipeline in a startup. I've been able to build the sales cycle from scratch by building my own list of contacts, since I was having the first go at it. I enjoyed having the freedom of creating my own success from building a list of all the companies, content, and sequences — essentially the accounts and personas we're targeting."
Brian shares that his eagerness to learn has aided him to succeed as a Business Development Representative since starting at atEvent in the beginning of the year: "Being in the martech space, there's always upcoming trends which allows me to constantly learn new concepts and maintain that desire to keep learning and thriving. The mentality of being genuine, creative, and innovative has also transferred well from coming from the family business." 
Brian recognizes that having Ashleigh as his coach has helped immensely starting out in this new role. "Having that 1-on-1 interaction with Ashleigh has been beneficial, since you're able to talk about your pain points to truly create a quality conversation. Ashleigh has so many different resources that she has connected me to as well."
Brian's biggest tip for SDRs starting out: "Be genuine and be yourself. I've found that bringing your own personality is key. If you embrace yourself, people will want to talk to you."
Since starting in this role, Brian has seen some small (and big) wins. Brian has successfully opened up some enterprise opportunities while being able to build his sales cycle from scratch.  He's also had the opportunity to attend several tradeshows to represent atEvent.
Keep up your hustle and embracing this role, Brian! We have no doubt that you'll continue to bring energy and success to your team, and we cannot wait to see what else is in store for you at atEvent.
Co-Written by Shannon Chau and Kristin O'Donnell