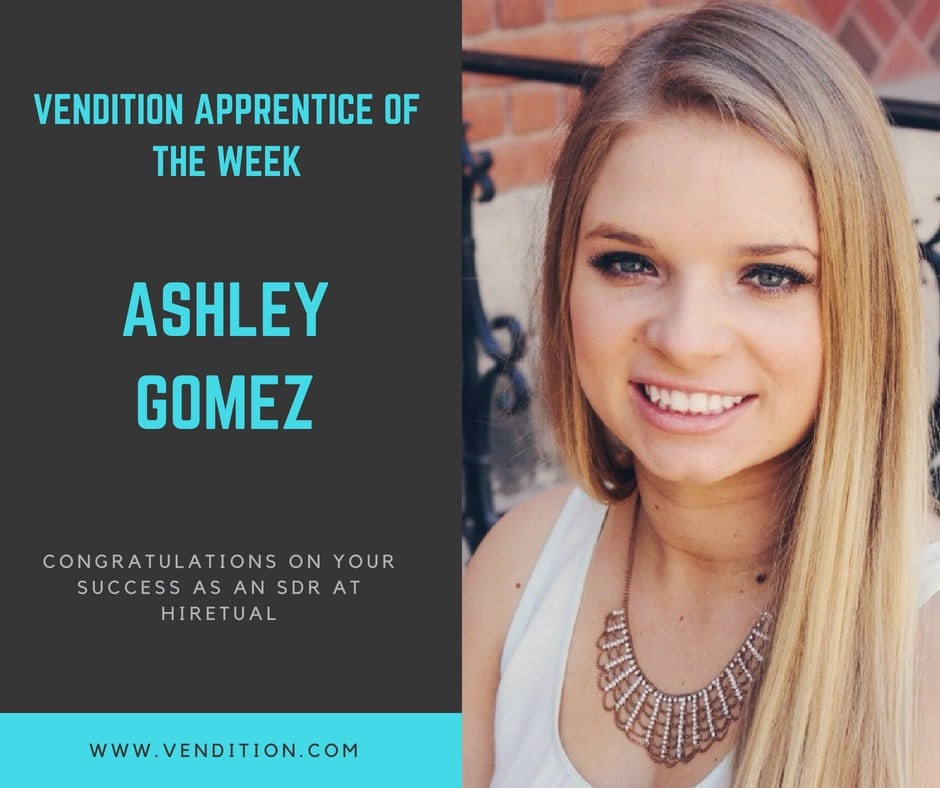 Congratulations to Ashley Gomez, Vendition's Apprentice of the Week! We are very proud of your hard work, and we can't wait to see even more of the success that comes your way!
After Ashley graduated from the University of Arizona, she wasn't sure what industry she wanted to pursue. She knew that finding a strong company culture was just as important as the role itself, and she wanted to find a place where she could grow and learn. After interviewing with many companies, she still struggled to find the right fit.  Ashley's mom had previously worked with Vendition's CEO, James Nielsen, and she had heard great reviews about the company from past apprentices. Once Ashley reached out the Vendition team, she knew she was in good hands.
Check out the interview with Ashley Gomez to learn her story:
"When I first approached the Vendition team, I worked with my Relationship Manager on interview prep and finding the right company. My Relationship Manager introduced me to several companies that were catered to my personality and passions, with one of them being Hiretual. A crucial piece of advice he gave me was to know the product and the company well, like the back of my hand. In addition to doing research on the product, I also sought feedback from my mom since she's a recruiter herself. During the interview, because my Relationship Manager prepped me on being knowledgeable about the company, I suggested things I believed the company could improve on, and this really stood out to the team. Since I never had prior experience interviewing for a technical company, his guidance was really important in shaping my success.
"On my first day at Hiretual, I became the fourth person to join my team. Within a span of three weeks, our team tripled in size. This rapid growth for a startup company was a bit overwhelming and stressful at first. Luckily, the mentorship from Ashleigh really helped me adapt to the role and the environment quickly. She reminded me that a huge team of people gave me an opportunity to learn and pick up skills from the new people joining my team. She also offered insight on ways to improve phone calls and email outreach."
Here are some top tips from Ashley for future SDRs:
On strategy:
"A really useful strategy Ashleigh taught me was to create a spreadsheet and familiarize myself with the company's competitors to be able to answer tricky questions that clients may have for me. The other day, I was asked how Hiretual was different from other resources, and I was able to prompt a good response from what I learned."
On choosing the right company:
"Find a product that you really love and believe in. It will motivate you to do well and hit the ground running. There will be a lot of rejection from prospects, so you just have to keep your head down and keep moving forward."
Closing thoughts:
"I'm grateful to have gone through Vendition's Apprenticeship program and to have landed a job at a company I fit in with, the overall experience has been very positive. I was able to convert into a full time role after ten weeks, and the company is continuously pushing for growth. Ashleigh was amazing in helping me through the transitions, and without her guidance and mentorship I definitely would not have been able to work through all the challenges and do this well."
Great work at Hiretual, Ashley. We are excited to welcome you to our alumni network and are so proud of you!