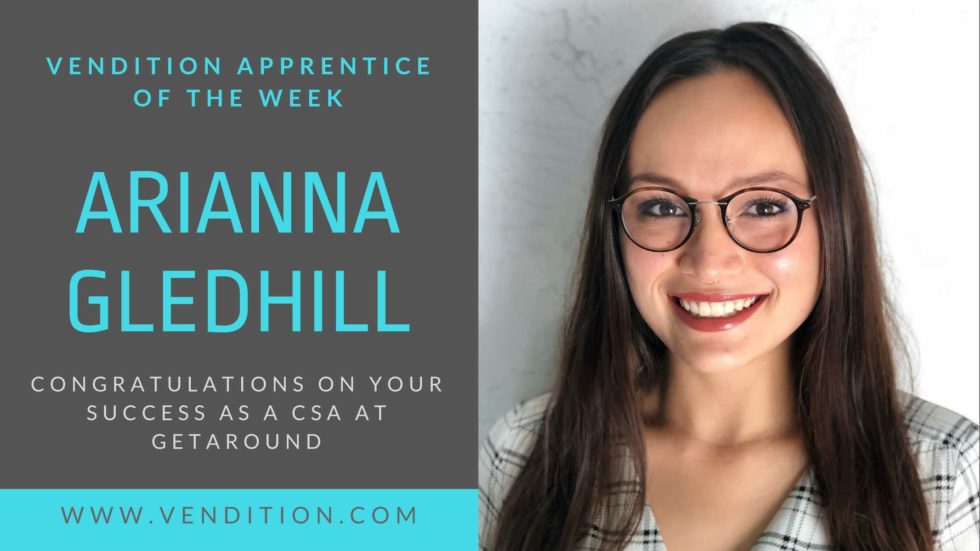 This week, we're highlighting Arianna Gledhill at Getaround as Vendition's Apprentice of the Week.  We first came into contact with Arianna when she graduated from Cal after double majoring in STEM. She was looking to make her first career move into a customer-facing role, and she found just that in the Customer Success Associate role at Getaround.
Read the rest to learn Arianna's Vendition story:
"I graduated in August, and I was more so looking for a customer facing position within the tech industry.  I had graduated in August and this was the first and only position I applied to through Vendition. The [customer success role] was the first one that Michelle recommended to me, and I was really glad that she pointed me in this direction."
Arianna shares that through the interview process, she felt a connection with the people and culture at Getaround right off the bat. "I just felt like I really got along with the people I interviewed with–with four back-to-back thirty minute sessions it really gave me a great sense of the people I'd be working closely with.  The interview process gave me the right idea of the culture, the priorities of the job, and doing the work sample was really helpful for me to get a gauge of if I would like working there. Basically the interview process warmed me up to the company, and the work sample warmed me up to the actual work. I had been interviewing at other places off and on, and I had never had such a positive experience anywhere else."
The opportunity with Getaround was a unique one–Arianna says that there's been a lot of change since day one.  "I came on to an entirely new team–I was the first hire to the customer success team. I was there for about two months when two more joined me, and then another [CSA] just came on a few weeks ago.  It's truly a work in progress in the sense that this is a really new team. I've had the opportunity to take on a project that [the team] didn't think we'd even have to consider. In this role I tackle problems as they arise, and with hypergrowth, there are a lot of challenges that you haven't dealt with prior."
In regards to coaching sessions with Ashleigh, Arianna says she had a different perspective going into each conversation.  "During my coaching sessions with Ashleigh, it's not that she was imparting on me specific SDR strategies due to the nature of my role.  Truly the most useful knowledge I got from her was her vast sales knowledge because coming into a CS position, we are the post-sales relationship.  Using Ashleigh helped adjust my mindset to fully understand the stage pre-life cycle as the post-sales relationship manager."
Arianna shares her best tips to see success in the role:
"If you have a question about a certain process or you're unsure, reach out to your teammates and your manager for advice.  I've found that sometimes the best ideas come from multiple perspectives, so it's really worthwhile to open lines of communication so that customers can be successful."
Arianna's managers have recognized her for her willingness to take on new responsibilities, dive in headfirst, and figure it out on the way.  She shares that as the first person without a manager, she's been active in training a lot of her teammates as they onboard, as well.
We can't wait to see you continue to grow in this Customer Success role, Arianna!  Your hustler mentality and willingness to take on newer and bigger problems will ensure your success both now and well into your career.