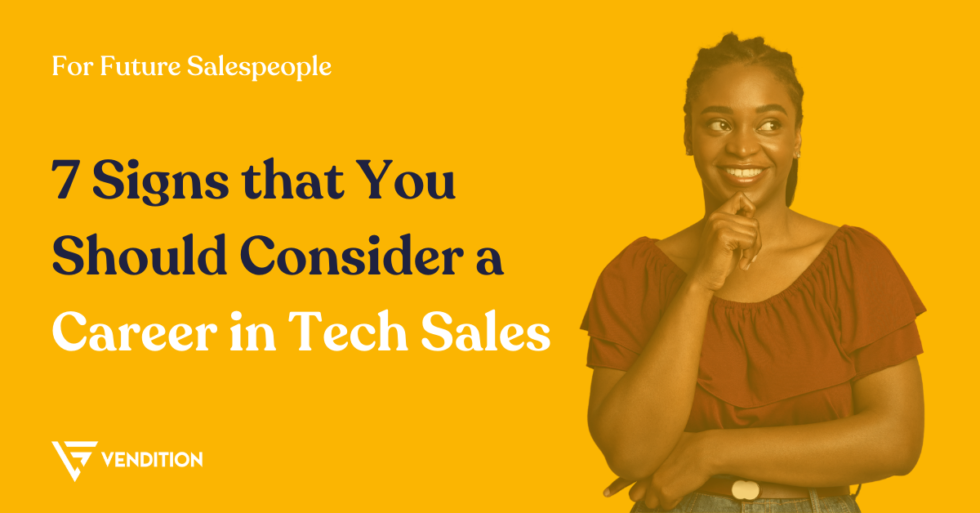 If you're curious about how the skills you gained in prior work experiences could be applied to a career in tech sales, you're in the right place. Heck, if you consider yourself curious at all… you're in the right place! The sales profession is full of opportunities, but since the tech industry was once dominated by stricter barriers to entry, it's not uncommon for people from perceived "non-techie" backgrounds to underestimate how valuable their soft skills could be in tech. Through thousands of interviews, we've learned to spot the traits of future sales talent – fast.
Realizing your potential to pursue a career in tech sales can be a high-paying, rewarding choice for anyone from teachers and grocers, to college grads and counselors, and everyone in between. Can you relate to any of the following signs that a tech sales career could be for you?
Spoiler Alert: If anyone has ever said, "You should really try sales!" – we're talking to you! 
1. You are a naturally curious person with a knack for research and problem solving.
Do you ask a lot of meaningful questions? Are you passionate about lifelong learning? Sales professionals have the opportunity to problem-solve on a daily basis and are constantly building knowledge to help their customers succeed. Many new entry-level Sales Development Representatives (SDRs) have pivoted to the tech industry after harnessing their curiosity working in fields like engineering, psychology, or education.
2. You are a clear and concise communicator, valuing the ability to tell a cohesive story.
Love telling stories? Think it's fun talking to new people? Perhaps you picked up these traits from circumstances like growing up in a big family, leading a club at school, participating in a sports team, studying communications, or being a counselor. Sales professions spend ample time talking to people and thrive on meaningful communication. Part of what makes sales a fun profession is that you get to talk to new people all the time.
3. You have worked in a customer-facing role (such as retail stores, restaurants, gyms).
Where are our baristas, bartenders, personal trainers, hospitality workers, and retail people at?! While the experience you gained upselling customers coffee, margaritas, t-shirts, or girl-scout cookies may not immediately stand out to you as applicable to selling software – it is. In these fast-paced roles, you communicate efficiently and when you see a problem, you offer a solution to resolve it, whether it's to have a delicious drink or develop the right fitness plan. For people considering a career in tech sales, it's all about building confidence in your inner seller.
4. You're motivated and want a job where your earning potential is tied to performance.
You work hard. You want your paycheck to reflect that. You like numbers, and want to be in a results-driven role with clearly laid out expectations for goals and objectives. Becoming a Sales Development Representative (SDR) is an entry-level position with a clear pathway to promotional opportunities. Great SDRs quickly can become SDR Managers, Account Executives, or Sales Leaders, while others pivot to Marketing, Product or Customer Success roles now that they've got their foot in the door.
Watch reviews from Vendition Alumni who have been promoted to various positions!
5. You were involved with leadership opportunities on campus as an athlete/club leader.
Whether you willingly raised your hand to become a leader in some capacity, or were nominated for a leadership position because someone else saw potential in you, do you find that you naturally inspire people towards a cause? The lessons you learned while navigating a group project, managing a club, mentoring a peer, or being a team lead in your industry can help you tackle a career in tech sales with similar tenacity. 
6. You're driven to make a difference, but your current job or field of study isn't a fit.
It happens. Whether you're a recent graduate with new professional interests, or someone who's been working in a field you were once very passionate about, circumstances change. The volatility of the pandemic has left many people desiring a more enticing, financially stable career. If you're a healthcare professional or teacher, the burnout is all too real. Pivoting to a sales career can offer more flexibility, higher pay, health benefits, and more, all while still being a rewarding opportunity to truly change people's lives. You'll never know if you don't try.
7. You want your paycheck to go further so you can attain real financial freedom.
Dread checking your bank account? Discouraged about debt? Student loans. Home loans. Medical bills. Car payments. Gas prices. Groceries. Debt adds up, and it can hinder our ability to live fulfilling, healthy, empowered lives. And with debt in America climbing so rapidly, it's important to take your goals for financial stability seriously. Good news: one of the most appealing things about a tech sales career is the opportunity to earn more money! 
Curious what steps can you take to advance your career without taking on more debt? Don't make the assumption that you have no options – at Vendition, we believe in tuition-free training. Our Sales Apprenticeship helps job seekers get hired, gain real on-the-job experience at a tech company over 12 weeks, AND we pay you $9,000 while you learn.
After the program, over 9 out of 10 Apprentices are offered full-time employment and report earning an average annual salary of $78,570 OTE. Our goal is to get you hired long term!
Take the First Step to Your New Career in Tech Sales
Ready to start exploring your career options with a Sales Apprenticeship?
Create your Candidate Profile at Vendition.com to begin your application.
A Career Advisor will be happy to chat with you about how your current experience can be applied to a career in tech sales! 
Note: All Vendition Sales Apprentices must be authorized to live and work in the United States.