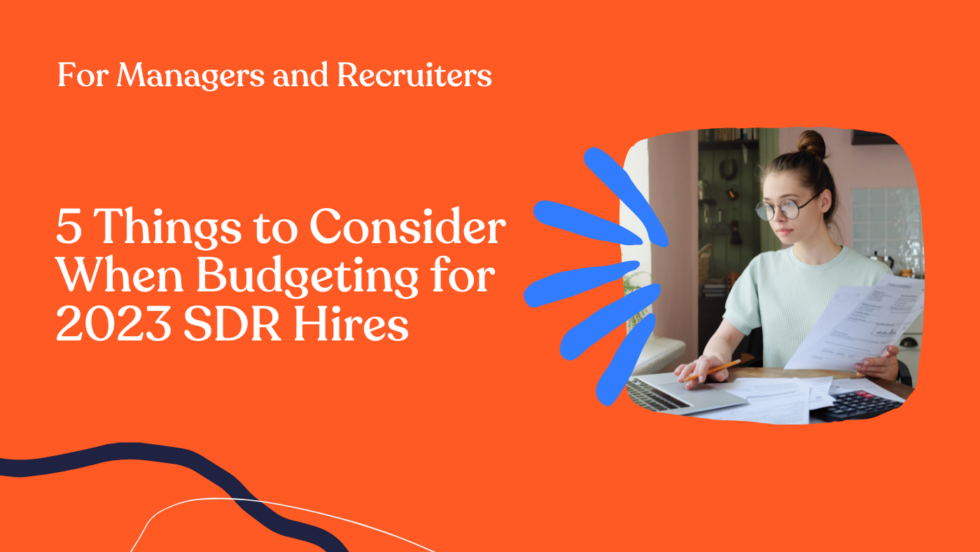 Despite growing concerns around the state of the economy, especially as it affects the tech industry, many companies are preparing to scale their sales teams in the coming year. This means investing in the ever-important Sales Development Representative role, which many (including us at Vendition) argue is the foundation of any successful sales team. But budgeting for new SDR hires can be challenging, especially when funds are limited. Here are 3 things to keep in mind when budgeting for 2023 SDR hires:
1. Understand that it's a worthwhile investment
You might think that this is a given, but lots of company executives still don't see the value in the SDR position. In most cases, SDRs are the first point of contact for your potential clients. This means that they're doing a great deal of leg work to identify and warm up high-quality leads worth chasing, while also generating the volume needed in your sales funnel to hit your sales goals. 
While the SDR role might once have been a "nice-to-have," it's become crucial to the success of any sales organization. And the figures support this: research shows that the Sales Development Representative position was the fastest growing entry-level job in 2021. We've found that the average SDR base salary ranges from $50,000 to $65,000, with variable compensation between $15,000 and $20,000. It's important to make your company's salary offering as competitive as possible so as to attract the best of the best talent. Remember that an investment in SDRs is an investment in your company's success, so don't play small.
2. Consider the price of extra tech stack accounts
The salary isn't the only number you should keep in mind when budgeting for new SDRs. In order to generate leads efficiently, your new hires are going to need access to that seemingly ever-growing tech stack, like your customer relationship management (CRM), sales enablement and automation, demos, internal communication tools… These have all been largely automated and, at this point, are standard elements in any sales team's tech bundle. 
Review your team's accounts and confirm the cost increases for each tool. Are you adding new seats? Do you need to upgrade your package? It may cost a little extra money now, but it will pay off in the long run when your new hires are prospecting, setting and taking meetings quickly and easily.
 3. Time it right
Knowing when to budget is a key element that's easy to overlook. You don't want to wait too late to budget for new hires, as this may slow down your team's progress towards hitting sales goals. Understand that your pipeline will not necessarily increase immediately after bringing on a new SDR; consider the time it takes to ramp as well as any supplemental training or coaching they may need. 
Getting a grasp on the time it'll take your SDRs to reach their full potential, as well as staying abreast of your company's expansion goals and probable hiring needs, will help you determine when to ask for an increased budget and when to hire in order to hit your goals.
4. Consider the impact of new hires on current employees
Bringing on new hires will inevitably impact your organizational structure, and may call for larger budget considerations. As you scale your sales team, you may be looking to promote current SDRs to more senior roles. This will likely require more targeted mentorship and coaching, as well as salary increases and other compensation adjustments. Keep in mind that budgeting for new hires also means budgeting for current employees.
5. Incorporate hiring partners into your budget
It's not easy to hire new SDRs, especially when you go about it alone. Finding the right hiring partner (like Vendition) can streamline the hiring process and significantly reduce the workload for hiring managers and sales leaders. Not only do we source top talent according to your specific needs, we also work with you to onboard, engage, and acclimate this talent to the SDR role once you bring them on. 
Consider how much it costs you to make a new hire. There's listing the job, then spending time and resources reviewing resumes and interviewing. On top of that, onboarding and training can often be an entirely separate beast (calling for a beast-like budget), so having a partner who can do this for you is great for your pockets. Be sure that when you're budgeting for new SDR hires next year, you consider teaming up with a company that will make everybody's jobs easier.
If you're looking to scale your SDR team in a cost-efficient way, Vendition may be the right hiring partner for you. Connect with us today!