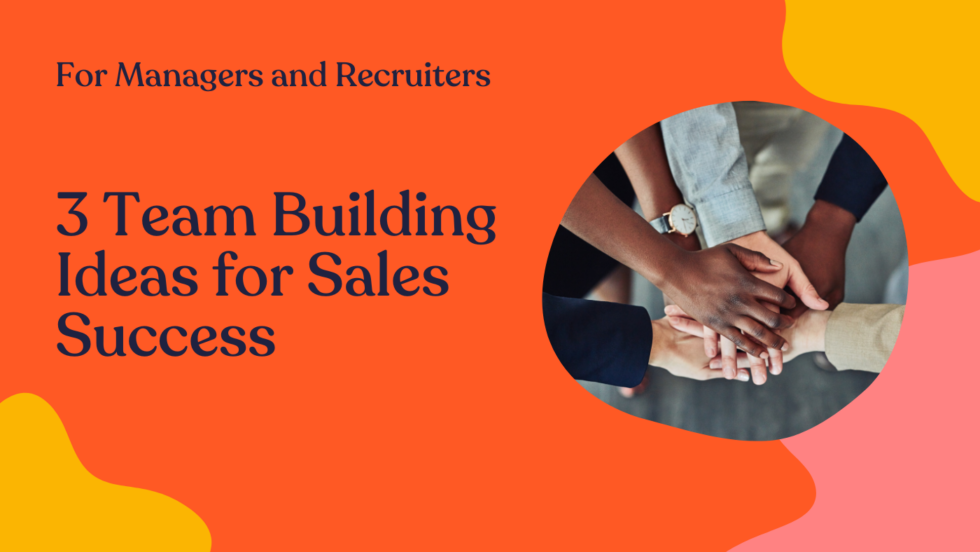 Lots of people are drawn to the sales profession because of the direct correlation between their individual efforts and their success. Still, there is no "I" in "team," and your SDRs are all working towards the same goal. It's important to foster a sense of community among your SDRs, and to be intentional about strengthening team dynamics. 
The term "team building," in this sense, refers to efforts made to cultivate and strengthen bonds between employees with the ultimate goal of increasing productivity and efficiency. Team building allows employees to get to know each other on a deeper level, which empowers them to work better together towards team goals. Here are three ways to build stronger teams:
1. Get off-topic in team meetings. 
This may sound counterintuitive, but stay with us. As a sales leader, it's normal to want to get straight to business during your weekly team meetings or daily standups. After all, who wants to waste time on small talk when there are meetings to be set and deals to be closed? 
What if we told you that small talk is anything but small? Engaging in authentic, non-work-related discussions can deepen connections between team members, foster a psychologically safe environment (which is crucial for high-performing teams), and promote the kind of creative collaboration needed to overcome obstacles. 
Consider opening meetings with a "popcorn question" — something that elicits quick responses, but ultimately sheds a bit more light on who your employees are as people before diving into the main reason for the meeting. 
2. Implement recurring team lunches.
The thing about team building activities that happen outside the normal workday is that it's difficult to incentivize employees to spend more time on work than they already do. Plus, setting these events outside of work hours sends the message that fostering community among your team is simply a "nice to have," not a priority.
One way to fit in some team bonding and building without losing too much productivity is to implement recurring team lunches. These can be once a month or once a quarter, whatever cadence works for you and your team, but the key is to prioritize them as you would any other meeting. If you have the budget, send out food delivery gift cards in advance or offer reimbursement for meals purchased out of pocket. It may also be useful to disseminate a loose "agenda" beforehand (with popcorn questions, game instructions, etc.) to allow employees to prepare. Then, during the lunches, talk about anything but work! Get to know each other on a more personal level, and watch your team's productivity increase because of it.
3. Plan a team retreat.
This one is an idea seemingly as old as time but has been more difficult to execute due to COVID regulations; it's still worth mentioning if you currently work in a hybrid or in-person workplace. Team retreats are a great way to switch up the day-to-day monotony, get employees outside of the office (and outside their comfort zones), and implement lots of team-building experiences that will pay off in the long run.
Team retreats don't have to be bank breakers! Rent out a room in your local convention center, or (if your budget's a little higher), consider hosting a weekend trip to somewhere within driving distance. Set up team building exercises and activities in advance, and try to think outside the box. Maybe your employees would enjoy a nice morning hike, or volunteering for a cause everyone's passionate about (something you could find out through popcorn questions!). Get creative, and get to know each other!
If you're looking for help building a cohesive, high-performing SDR team, look no further. Connect with Vendition today!