Meet Vendition
Get ready for the revolutionary way to start your sales career with Vendition at your side.
We assess your personality, traits and soft skills – not just what is on your resume – to personally connect you to companies looking for what you bring to the table. Our goal is to land you a job at one of the hundreds of companies we work with – all for free – with an average starting salary of $78,750 OTE.
Are you an ambitious, driven, and coachable individual ready to break into the lucrative world of sales? Then Vendition is for you! Vendition's Sales Mentorship is for people from all types of backgrounds and experiences – recent college grads, career switchers, and veterans.

Get ready to show us how you will shine in a sales career and start your application today!
Why not find a job on my own?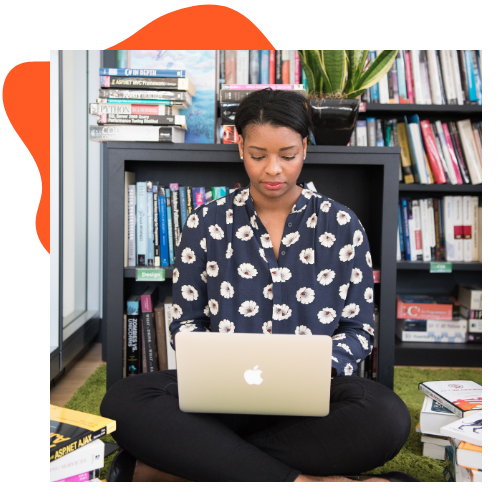 Wondering if you should accept help as you start your sales career? Vendition gives you the edge when it comes to finding a job:
Resume and LinkedIn tips

Interviews scheduled directly on your calendar

Interview coaching and mock interviews

Salary negotiation tips

On-the-job 12-week Mentorship and coaching

Sales Certification you have throughout your career

Ongoing career support for decades to come

Strong and well-connected network
Plus you get an entire team of recruiters working on your behalf to tell hiring companies why they should hire you! And unlike other programs, Vendition actually pays you to learn once you're in the Mentorship!
What you get with Vendition
Employment
Land a job as a Sales Development Representative.
Mentorship
Access to Sales Development Mentors with personalized 1:1 sessions.
Growth
Gain exclusive access to programming developed by leading sales gurus.
Community
Lifetime access to our Alumni network and events.
Training
Technical and soft skills development that will support you throughout your career.
Certification
Boost your credibility and future opportunities by becoming Sales Certified.
Vendition's Mentorship is a 12-week, full-time program that starts after you accept a job offer with one of our hiring companies. The Mentorship aspect is done virtually and in tandem as you work on-the-job in your sales role, which can be in-person or remote.
During your Mentorship, you and your Mentor focus on developing both your technical skills – such as proficiency in making cold calls or handling objections – and soft skills – like time management and communication – through 1:1 coaching, peer-to-peer sessions, videos, and assignments.
The Mentorship program is available to those living in and authorized to work in the United States and is designed so you can be empowered and confident as you embark on your new sales career.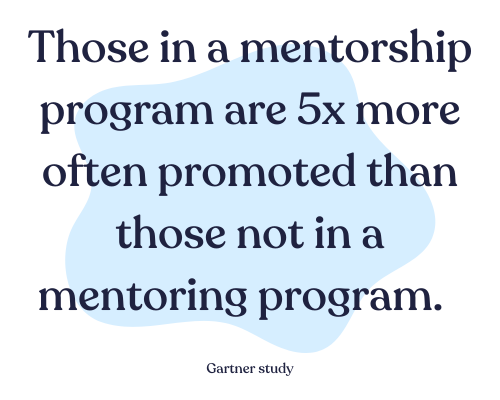 Learn more about the success people just like you have experienced through Vendition!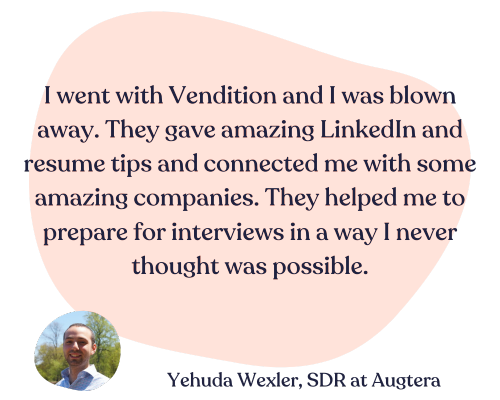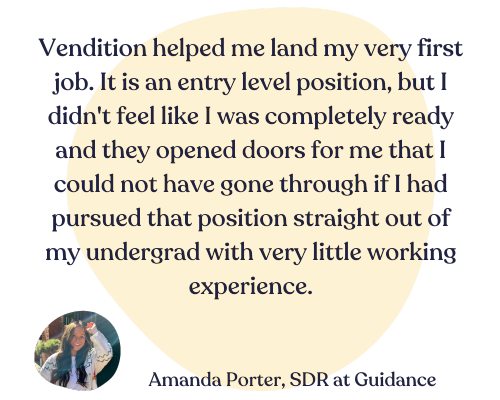 Getting started is easy
Working with Vendition is as simple as 1-2-3!

Create your Vendition Candidate Profile and tell us all about you.

Ace the interview with your Career Advisor to show you're ready to take on a sales role.

Get hired by a high-growth company and start your Mentorship while learning on-the-job.
Wanting to learn more about Vendition, the Mentorship, or what the sales role actually entails? Check out these helpful resources: